*All fares are quoted in USD.
Book Flight to Chania
The Scenic Island City of Greece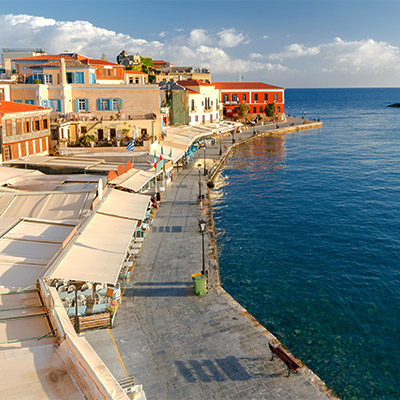 Uncovering Chania
One of Greece's most loved destinations, Chania is giving some tough competition to Athens. Literally! This island paradise is a gem where countless vacationers go to get that perfect tan and immerse in some history. You will find it hard to stay idle while vacationing in Chania since there are some really amazing attractions to explore. Chic boutiques and quaint cafés grace the cobbled streets adding a charm to the city's personality. From the bustling Old Venetian Harbor that was built in the 14th century to the monastery island of Akrotiri, this town certainly has something for every type of traveler. So pack your bags, book a flight to Chania this season and have a splendid vacation.
Know more about Chania
This fabulous town of Chania is not only a major stop for history seekers but it is also one of the hippest destinations in terms of nightlife. The town has many pubs, dance clubs and late-night bars that will kick-start your vacation in Chania on a high note. If it's live music you are looking for, then you won't be disappointed. The most popular places for nightlife lovers is located in the eastern part of the town. So, what's the holdup? Book a low-cost flight to Chania and say hello to good times.
Popular Tourist Attractions
The Monasteries of Akrotiri Peninsula
Being 6 miles away from Chania, visitors can take a ferry ride to the small island of Akrotiri. This Island is home to some famous archaeological sites, three of which are magnificent monasteries. You can visit Agia Triada which was built in the year 1612. This monastery is surrounded by pretty orange orchards and olive groves but the charm of the monastery lies in the cloistered courtyard. Gouverneto is closed for visitors but the location of this monastery still oozes an undeniable charm. Katholiko is a sixth-century monastery and the best feature of this particular one is that it is built on a cliff face.
Old Venetian Harbor
The most popular attraction in the whole of Chania is the Old Venetian Harbor that dates back to the 14th century. This historical structure was built for commercial purposes and also to protect the city from pirate raids. You can take a stroll in the quay which is surrounded by pretty shops and eateries. It is also a great place for photography where the buildings portray a mixture of architectural styles consisting of Venetian, Ottoman and Cretan elements. The narrow alleyways which are sandwiched between buildings is where you won't mind getting lost as they have a charming appeal. The intriguing lighthouse and the Firkas Fort are some of the must-see attractions located in and around the Old Venetian Harbor. Many hotels line the area, therefore book a hotel here to wake up to the blissful vibe of Old Venetian Harbor.
Maritime Museum of Crete
While exploring the Old Venetian Harbor, you've got to visit the Maritime Museum of Crete. It is a fascinating museum that shares stories of the relationship between the largest island of Greece (Crete) and the sea. You can find stories of battles and voyages of the Venetian, Turkish, and Byzantine empires. There is also an exhibit educating about the German invasion during the World War II. The Maritime Museum of Crete is spread across two floors and contains treasured items like the models of ships, nautical equipment, paintings, photographs and more. Book cheap airline tickets to the city and brush up on your history and facts.
The Archaeological Museum of Chania
Chania's history dates back to over 2200 BC and if you are a history buff, you can find all the treasures under one roof at The Archaeological Museum of Chania. The museum holds various important archaeological finds from the Neolithic times to the Roman era. A number of precious finds like painted burial urns, Minoan ceramics, clay tablets with inscriptions and gold jewelry are put on display. There are other notable exhibitions like the clay figurines of bird-faced woman, the marble bust of Roman Emperor Hadrian, a third-century Roman mosaic floor, votive ceramic bulls and more.
Botanic Park & Gardens of Crete
If you are visiting Botanic Park & Gardens of Crete, you will find an array of exotic fruits and plants. Thanks to the island warm weather throughout, the soil is fertile and ideal to grow all sorts of tropical fruits, olives and grapes. There are also a number of restaurants and cafés that serve delicious Cretan dishes. The ingredients used for preparing these dishes is sourced from the park's own products. So, treat your palate to flavorsome food while admiring the gorgeous vistas of the botanical garden.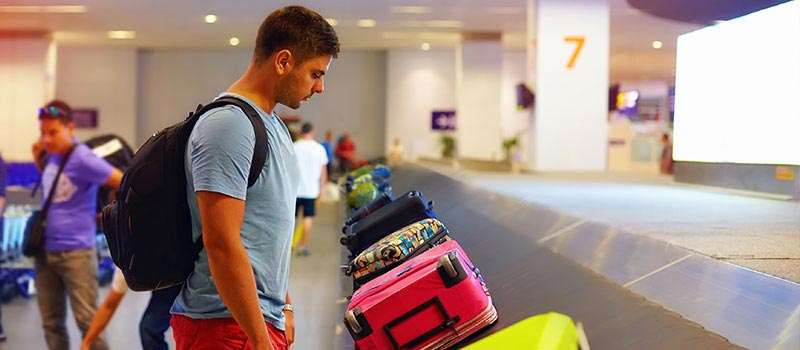 Getting Around in the City
Bus
Taxi
Train
Rental Car
Other popular cities to visit
Athens
Patras
Bayda
Izmir
Book flights to Chania
Greek food is said to be one of the most delicious cuisines in the world. It tastes best when coupled with swigs of red wine. Every bite of the savory and delicious Greek food will have you crave for more. The town has a number of restaurants to try out the different variety of Greek cuisine. So, book a cheap flight to Chania and gorge on the delish dishes served in the city.
A Step towards Memory Capturing Family Vacations