*All fares are quoted in USD.
Book Flights to Cannes
The Festival City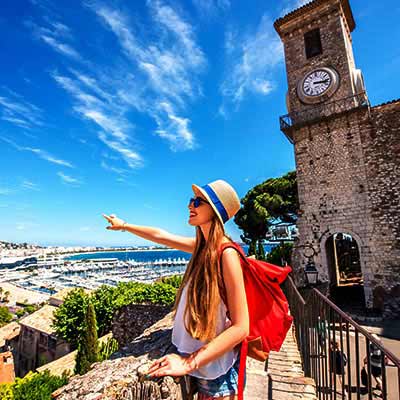 Uncovering Cannes
For years, you just sat in front of your TV sets and viewed the TV channel programs that were hosting and live recording international movie award shows and film festivals which were held for cinematographers, actors, producers, directors and everyone else connected with the cinema world in some way or the other. And you always thought to yourself, "One day, I will be there too, watching it all live instead of on TV".
There are various segments and sections of these dreams. But there is one common dream of every movie buff out there. If you are a fan of movies, you had always weaved a precious dream of taking the flights to Cannes at least once in your whole lifetime.
Cannes, the place which has crossed your mind more than once whenever somebody said the word "Red Carpet", is one of the most beautiful places on earth. Situated by the French Riviera, Cannes is exotic with a touch of golden dusts of luxury.
Every year two occasions remind us about this beautiful place and our heart budges us to look for the flight deals to Cannes and fly away to the land of serenity, beauty, classic tales, a perfect blend of mountains and sea and a 'not-to-be-missed' luxury experience.
About Cannes:
The 10th century Ligurian port Canua, now known as Cannes, has moved a long way from being a small port to the city which is often associated with luxury holiday destination. Set up by monks in 11th century, Cannes has witnessed it all, from reign of monks to the threat of Pirate loots or even threat of invasion by Spanish and British ruling bodies, Cannes has endured every possible change in the history of any city.
The name Cannes came from the former names Canua, which meant reed, which describes how wonderfully Cannes appears to have grown out of the sea like a reed plant, slender, and beautiful. So once you strike your flight deals to Cannes, you can look forward to walk in the streets of a small French city.
More useful information about Cannes:
There are many interesting facts to know about Cannes, the small luxury city of France.
The story of Cannes started when in 2nd century B.C. the Oxybians settled here.
Romans ousted the Oxybians and took over Cannes, which can be seen by the spread of Roman architecture in Cannes, for example, a fort in Le Suquet.
The Roman built fort is currently the heart of city, Cannes.
The population of the luxurious yet small city, Cannes is about 70,400.
The first ever Cannes Film Festival took place in the year 1946, though it was shut down due to World War II associated budget restrictions in the year 1948 and 1950. The Cannes Film Festival will be celebrating its 70thyear anniversary in 2017(May 17-18).
There is a famous saying which summarizes the features and qualities of Cannes Cuisine "The Cuisine of Cannes is like a ray of sun on a sheet of blue sea." The typical Cannes platter has a mix of everything that tantalizes your taste buds and keeps you craving for more and more. The plate might contain fresh vegetable served with variety of sea food products toasted in olive oil. To complete the ambience, which is also an essential to enjoy the food on the plate, you just need a glass of rose wine. And voila! You have set on your taste buds on a gastronomical adventure which shall leave a permanent memory of taste, not just in your mouth, but also in your heart and mind.
Cannes Weather:
There is common belief all around the world which states that the cities situated besides sea is blessed with mild weather and climate conditions. The gorgeous city of Cannes abides by this belief and exhibits a Mediterranean Climate. As the city experiences a hot summer and only mild weather conditions around winter season, you should check the weather forecast of Cannes before getting on your flight to Cannes. As per the climate records, the average temperature of summer in Cannes is about 25 degree Celsius and the average temperature of winter in Cannes is about 10 degrees Celsius or below.
Cannes Attractions // Exploring Cannes:
So you got your best flight deals to Cannes, or got lucky with last minute flights to Cannes offers. What will you do once you reach Cannes? Have you done your little research to find out the best places to explore in and around Cannes? Let us help you with your research and list out the places you might want to visit once you put your own feet on the grounds of city wrapped in luxurious wonders and nature's beauty, Cannes.
The palm-tree lined waterfront street, the Promenade de la Croisette, more commonly known as Boulevard de la Croisette, is the starter on the Cannes attractions menu. Tourists are struck with awe as they walk past the beautiful hotels and the seafront on either side of the street.
Musée de la Castre, a museum at the top of the Suquet Hill, is the repository of ancient musical instruments, cultural symbols and artfeacts from the rulers who reigned in Cannes and also vintage work of art and technology which the voyagers brought on their way back to Cannes.
While you are still hovering around Suquet Hill, visit the church of Notre Dame de l'Espérence. This church was built in the year 1648 and was restored in the year 2013.
When is the best time to book a flight to Cannes?
Every tourist destination around the world has a hike in flight price with the dawn of best season. If you are not aiming to attend the Cannes film festival which takes place around the month of May every year, we would suggest you to book your flights to Cannes for the months post May. The cheap flights to Cannes can be availed for the time period that falls in the best season period of Cannes. But often the cheap airline tickets to Cannes can be booked in case you have booked your tickets six months prior to your travel.
The busiest season for the tourism industry in Cannes extends from April to October, with May being the busiest of all as the city hosts the annual Cannes Film Festival in this month. If you are looking for amazing flight deals to Cannes, November to March is the best time to book a flight to Cannes. As the hot summer raising the popularity of Cannes beaches begin to subside, the mild days of Fall and winter gradually takes over Cannes and this is also the time you should look out for, in case you wish to take an on-budget trip to Cannes.
Which Major airlines operate flights to Cannes
If you are flying to Cannes from an international destination, your destination airport will be Nice Côte d'Azur airport, or more commonly abbreviated as Nice airport. Situated about 24 kilometers from Cannes, Nice is the main connecting hub between international destinations, like North America, Africa, Middle East, Asia and Pacific, and Cannes.
Cheap airline tickets to Cannes from London is offered by a number of airlines namely, Lufthansa, KLM, British Airways, Iberia, Air France, Swiss, Norwegian, and other combination airlines. Low Cost Flights to Cannes from New York is offered by international airlines such as TAP Portugal, American Airlines, Air France, Aeroflot, etc. and takes about 8 hours to reach Nice airport.
In case you are looking for cheap flights to Cannes from Sydney, you might search in the websites of airlines such as Air France, Cathay Pacific, Emirates, etc. Airlines like Emirates, Etihad Airways, and Air France operate flight between India to Nice which is the only flight route available to book for flights to Cannes. From Nice airport you can reach Cannes by flight to Cannes Mandelieu Airport (CEQ) [a private aviation airport] or by road which is 46 minute drive, or by train which is again 46 minute journey.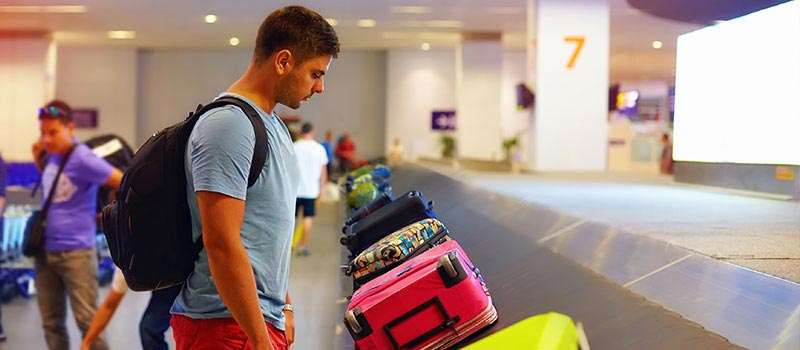 Getting Around in the City
The primary choice of ways to opt for getting around within Cannes is:
The small city is best travelled on foot.
You can take a taxi if in case you are not much of a stroller
Hire a bicycle or car to move around and explore the beautiful Cannes city.
Other Popular Cities to Visit
Nice
Marseille
Lyon
Paris
Toulouse
Popular Events in Cannes:
The most famous event that has put Cannes in the center of the movie world is the Cannes film festival that takes place every year in the month of May. Other festivals are International games festival, International Dance festival, international Music Festival, and Cannes Shopping Festival. So pack your bags, book the low cost flights to Cannes and have the time of your life in Cannes!
A Step towards Memory Capturing Family Vacations