*All fares are quoted in USD.
Book Flights to Nizhny Novgorod
"The Hidden Russian Gem"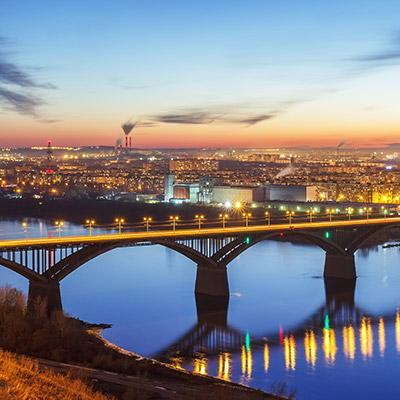 UncoveringNizhny Novgorod
Nizhny Novgorod has beauty, culture, history and pretty much everything else that tourists look for in a destination. Gracing the shores of the Volga and Oka Rivers, the city is believed to have been founded in the first half of the 13th century by Yury Vsevolodovich, the prince of the region at that time. The intriguing past of the city has left it with a number of structures narrating its tale. The historic monuments of Nizhny Novgorod and its surrounding areas have also found a place in the list of UNESCO World Heritage Site. So, that is an added reason to get onboard a cheap flight to Nizhny Novgorod.
Know More About Nizhny Novgorod
There are several great experiences to have in Nizhny Novgorod. Among these is a ride on the cable car from where you can enjoy panoramic views of the landscape. A visit to the city is also a marvelous opportunity to tickle your taste buds with some delectable Russian dishes. Pelmeni, blini, beef Stroganoff and pierogi are some dishes that you should definitely try out. And if you like to party, then start practicing your dance moves because this Russian city will keep you going all night. The nightlife may not be as wild as it is in Moscow but do not make the mistake of underestimating it. Moreover, there are plenty of places where you can pick souvenirs. What more does anyone need?!
Popular Tourist Attractions
Nizhny Novgorod Kremlin – It may not be as famed as the Kremlin in the national capital Moscow but Nizhny Novgorod Kremlin has its own charm which draws travelers from around the globe. The historical structure dominating the cityscape from the top of a hill dates back to the early 1500s. Its towering high walls command magnificent views of the city and are an added reason to pay a visit to the spectacular monuments; along with its intriguing history.
Nizhny Novgorod State Art Museum – More than a century old, Nizhny Novgorod State Art Museum is every art aficionado's favorite hangout spot in the city. It started off with a small collection of graphic cloths but today has more than 12,000 diverse objects such as paintings, decorative art pieces and more; from Russia as well as other parts of the world. Art pieces created by several renowned artists such as F. S. Rokotov and Bryullov are put up under this museum's roof.
Sakharov Museum – Sakharov Museum is dedicated to the Russian human rights activist and nuclear physicist, Andrei Sakharov, who lived six years of his life in exile. And the house in which the Noble Prize winner spent this time has been turned in to a museum that is visited by people who are fascinated by the history of human rights activism in the Soviet Union. There are many intriguing stories to be learnt here. So, book a cheap airline ticket, hop-on a flight and get ready to delve in to the past.
Alexander Nevsky Cathedral – Alexander Nevsky Cathedral is among the most captivating sights Nizhny Novgorod has to offer. Topped by five giant spires, the bright-yellow structure is also a great spot to click a few pictures while on your Nizhny Novgorod adventures. The soaring building is also famed as one of the tallest churches in Russia today.
Limpopo Zoo – Russia is a hotspot of wildlife with a thriving population of numerous endemic floral and faunal species. And if you love the furry and winged creatures that share this world with us, then rent a car and drive to Limpopo Zoo. You can come across numerous species of mammals, birds, reptiles and fish at this site. Your every step will bring you across something different and interesting.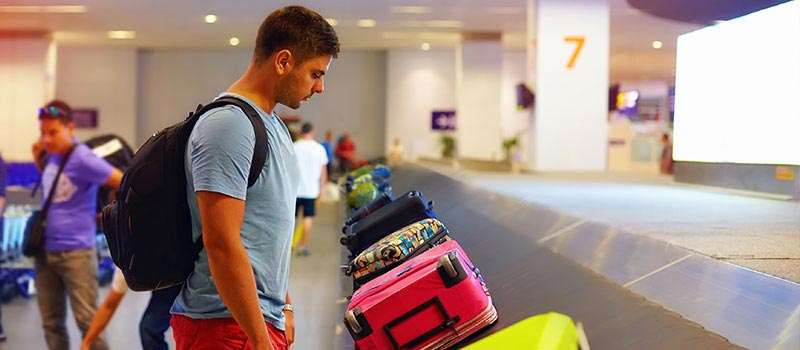 Getting Around in the City
Tram
Bus Service
Metro
Rental car
Cabs
Other Popular Cities to Visit
Dzerzhinsk
Ivanovo
Cheboksary
Vladimir
Kostroma
Book Flights to Nizhny Novgorod
Nizhny Novgorod beckons tourists with a bevy of incredible and amazing experiences to offer. If you are planning a trip to the city, then you are in for a time of your life. Board a last minute flight to Nizhny Novgorod and get ready for some fun. Also, if you are looking to save some money, then make your flight and hotel bookings in advance since the rates soar every second.
A Step towards Memory Capturing Family Vacations