*All fares are quoted in USD.
Book Flights to Kansas City
The Fountain City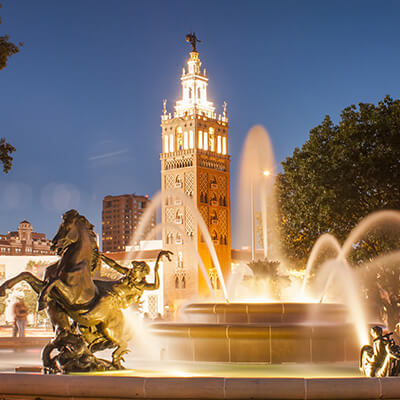 Uncovering Kansas City
Beautiful fountains, mouthwatering barbecue and affluent jazz heritage are some of the primary attributes of Kansas City in Missouri. So, if you are looking for a retreat and would like to treat yourself with some cheap flights to Kansas City then, you have come to the right place.
Just have a browse through our numerous Kansas City Flight Deals and pick the one that suits the budget. Also, make sure you do not forget to keep track of our regular Elite Fares on last minute flights to Kansas City and grab them while you still can.
Know More about Kansas City
Founded in the early 19th century as a port for River Missouri, Kansas City is one of the largest ones in the state of Missouri. It is renowned for its fab fountains, mouth-watering barbecues and jazz music Heritage. After Rome, the city houses more fountains than any city in the world. Buy some cheap flight tickets online to discover not only the beautiful landscapes but also its state-of-the-art craft breweries, major league sports events and local cuisine that entices travelers from different parts of the world.
Popular Tourist Attractions
The Nelson-Atkins Museum of Art - This museum in the heart of the city is known for its neoclassical architecture and vast collections of Asian Art. All the exhibits have been divided into different sections namely, European Paintings, Photography, American Paintings, Native American Art and Kansas City Sculpture Park. Another place for art romantics is the Kemper Museum of Contemporary Art that houses permanent collections featuring artists like Jasper Johns, Robert Motherwell, Nancy Graves, Frank Stella and Fairfield Porter.
Starlight Theatre - If you're a Performing Arts enthusiast then, you would love to visit the iconic Starlight Theatre. 7,957-seater-theater is known for its Broadway shows and music concerts. Grab some great cheap domestic airline tickets deals and get to one of their amazing shows. Some of the famous ones, I can still recall - 'The Rat Pack is Back' and 'A Gentleman's Guide to Love and Murder.'
National World War I Museum and Memorial - This museum is the leading institution of the country that is dedicated to remembering and interpreting World War I and its impact on global communities. It consists of numerous objects and documents from the war.
Liberty Memorial - Located at the National World War I Museum and Memorial, 'Liberty Memorial', is dedicated to all the brave men and women who served at World War I. It lists names of all the martyrs and survivors.
Country Club Plaza - This upbeat marketplace features an outdoor plaza that houses European fountains and sculptures alongside designer shops and restaurants. This plaza was established in 1922 and became the first shopping center in the world to cater to customers arriving in cars. It has many high-end chain stores, restaurants and entertainment facilities.
Crown Center - It is another commercial complex that houses Hallmark Cards' Headquarters, city's two largest hotels and an American Restaurant, which is the only restaurant in the state that was awarded four stars by Forbes Travel Guide.
Kansas City Zoo - Spanning across 202 acres, this wildlife facility boasts of more than 1,700 animals. It is an award winning non-profit zoo offering animals display and other tourist attractions. Witness penguins like never before at Helzberg Penguin Plaza, excursion to Polar Bear Passage where you can marvel at polar bears' beauty and strength are one of the few things to do here.
The Ewing and Muriel Kauffman Memorial Garden - Another tourist site located in the heart of Kansas City, the Ewing and Muriel 2-acre Garden is a part of Kauffman Legacy Park. The park is managed and maintained by Powell Gardens in partnership with Kauffman Foundation.
Arabia Steamboat Museum - One of the favorite attractions of the city, this museum houses about 200 tons of cargo from American Frontier. Make sure you visit the museum and check out the vintage collection that showcases the details of life on border.
Fountains - As we mentioned before that this city is well known for its fountains, it should not come as a surprise to you that there are about 200 registered fountains which can be seen almost everywhere - be it private residences, private or public gardens and office atriums.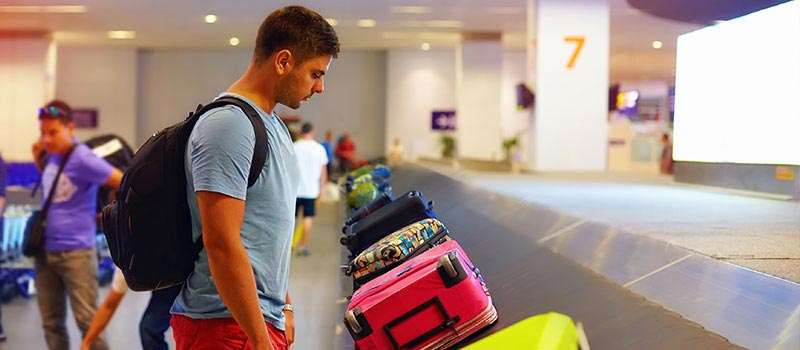 Getting Around in the City
Kansas City offers numerous options in terms of local transportation -
Metro
Buses
Passenger Vans
Taxis
Rental Cars
Other Popular Cities to Visit
New York City
Washington DC
Chicago
Miami
Cincinnati
Book Flights to Kansas City
There is no doubt about the fact that booking your tickets with Lookupfare will grab you the best low-cost flights to Kansas City. Just make sure you are equipped with all your travel essentials to make your trip hassle-free.
A Step towards Memory Capturing Family Vacations