Cheap Flights to Des Moines
Book Flights to Des Moines
Hartford of the West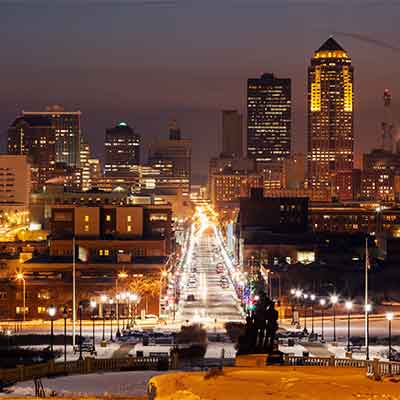 Uncovering Des Moines
A dynamic cultural center and the capital city of Iowa, Des Moines is a versatile destination that all visitors will enjoy. For a state capital, Des Moines is comparatively a small city that is easy to get around at and navigate freely. However, it still offers ample of incredible attractions. On your trip, you'll never run out of things to see and do.
Hop-on cheap flights to Des Moines where one can find unique and quirky attractions such as the magnificent Pappajohn Sculpture Park blended with historical highlights like the State Capitol Building. Discover historic gems like historical relics and manors; and local establishments such as the Downtown Farmers' Market where you will get a taste of the local flavors of Des Moines.
Know More about Des Moines
Des Moines is rich in culture and arts. This city has no dearth of attractions as visitors can pick from colorful festivals to numerous miles of trails. One can also enjoy concert in the core of downtown or sip varieties of wine at the local wineries or embark on a brewery tour. Art lovers and culture enthusiasts can visit Des Moines Art Center; spend their weekend hopping from one museum to another or attend a marvelous Broadway Performance at the Civic Center. Book a low cost flight to Des Moines and enjoy a long list of attractions.
Popular Tourist Attractions
State Capitol – The Iowa State Capitol was built between 1871 and 1886 and is an outstanding example of the 19th century architecture. It is considered to be one of the most sought after tourist attractions in Des Moines. It features diverse range of marble with different colors, works of art, fixtures and spectacular statues both in stone and wood. All the four domes are wrapped with beautiful 23-carat gold leaf and are attached to smaller golden lanterns, located on every corner of the building. Sculptures, paintings and a collection of war flags are displayed inside the mansion. Book a one way or round trip flight deal to Des Moines and visit this intriguing place.
Blank Park Zoo – This amazing park is situated in the downtown region of Des Moines, sprawling across 25 acres of gorgeous landscape. It was first opened in 1966 with a motive to educate and safeguard environmental and conservation issues. This zoo is home to species from all over the world. So, you can expect to see a colossal variety of animals, from African elephants to sea creatures. Giraffes, sloths, emus and ostriches are some of the prime animals which can be seen here.
Des Moines Art Center – This splendid Art Center was first opened in 1948 and is a perfect stop over for art fanatics; especially for the ones with an interest in modern art. This center features an inspiring collection of 20th and 21st century modern and contemporary art, as well as pieces from several cultures and style. The Art Deco Style architecture, paintings and other art forms of the Des Moines Art Center easily entice visitors from all over the globe.
Pappajohn Sculpture Park – This outstanding park is situated on Grand Avenue in downtown Des Moines. Opened in 2009, the beautiful park sprawls over 4 acres. It is home to over 20 sculptures created by famous artists. The best way to discover the park and all its fascinating structures is to hire a guide. Book a last minute flight deal to Des Moines if you haven't booked yet and discover this fascinating artistic endeavor.
Downtown Farmers' Market – This farmers' market is a great spot where you can find more than 300 local vendors, selling their merchandises at the same place. Downtown Farmers' Market is situated in the Historic Court District of Des Moines and has been running for over 40 years. If you want to save a memento from your trip to the city, try to get it from here as you get hold of best local products.
Better Homes and Gardens Test Garden – This place is best for taking an afternoon stroll. Book cheap Des Moines flight deals and visit this wonderland which will leave you spell bound with its beautiful gardens. This place is home to over 20 different gardens which are grouped according to unique themes, such as Path Garden featuring a blissful flagstone pathway, or the Shade Garden which is made up of green thriving little woodland.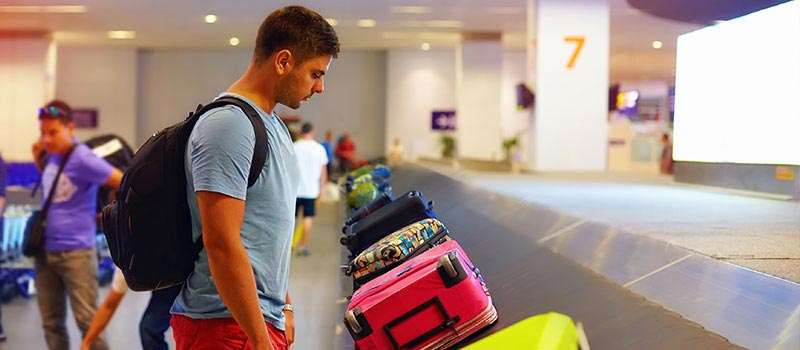 Getting Around in the City
Other Popular Cities to Visit
Ankeny
West Des Moines
Pella
Urbandale
Indianola
Book Flights to Des Moines
This beautiful city is served by Des Moines International Airport (DSM) that connects the city to more than 100 destinations in the United States of America through numerous airlines. Thus, if you are looking for cheap plane tickets to Des Moines or airline tickets from Des Moines to several other destinations, then book with us. You can also use our cheap flights app for reasonably priced packages to enjoy your tour.
A Step towards Memory Capturing Family Vacations