Things to Do in Tel Aviv
The City that Never Sleeps
Tel-Aviv is the second largest city in Israel that never sleeps! Located on the Mediterranean coastline, the city is the largest in the Gush Dan region of Israel.
A city known for its seaside culture, sizzling cafes, art, boutique hotels and UNESCO World Heritage Status – is becoming popular amongst the travelers for the very right reasons.
Vital Stats:
Nearest Airport: Sde Dov Airport, also known as Dov Hoz Airport is the nearest airport from the city center.
Modes of transport in the city: Now that you reached Tel Aviv, make sure you use the following public transport –
SkyTran
Bicycles
Buses
Taxis
Top Attractions: Now let's try and give you couple of hot-selling places that you can look at adding to your itinerary for your travels to Tel Aviv –
Beaches:
Tel-Aviv Jaffa Promenade
For the busker you!
This one is for the busker crawling inside you. A bustling walkway that will keep you busy throughout. If you are looking out to just go around for a lazy stroll then, Tel Aviv Jaffa Promenade is the place for you. From mind-blowing view of the sunsets, lots of people to authentic street food and music buskers, find everything local here and experience the everlasting charm.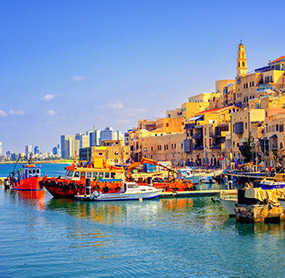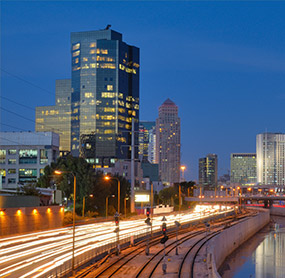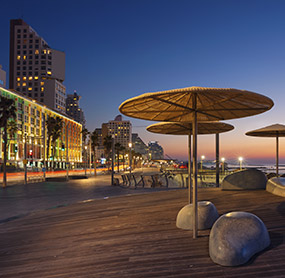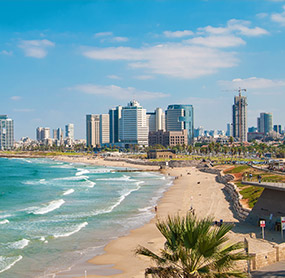 22 Apr 2020 - 30 Apr 2020
06 Apr 2020 - 16 Apr 2020
Old Jaffa
Oldest Seaport!
No trip to Tel Aviv is complete without visiting Old Jaffa - home to the oldest seaport in Israel. In the recent years, the place has become a thriving hub to artists, designers, restaurants, galleries and much more. So, fix up a day to yourself so that you can enjoy every nook and corner of the port.
Carmel Market
Market that you must have never seen before!
Even if you are not looking forward to shopping, a visit to Carmel Market is a must. This is not a run-of-the-mill market. What differentiates this one from the rest of the markets that you see is the sense of colors, smell and variety that surrounds the market. Also, if you are buying anything, haggle and haggle like a pro.
Levinsky Market
The best place to shoot!
For all you photography enthusiasts, this market is the place to be. Known for its spices and on Fridays for bakery shops, the place is a must visit for everyone looking to explore authentic Israel.
Nahalat Binyamin
Artsy Affair!
If you happen to take a trip to Tel-Aviv then make sure you have kept yourselves free for Tuesday and Friday. Nahalat Binyamin is an outdoor arts & crafts fair that runs along the pedestrian mall. You will witness that more than 200 artists from Israel display their unique and humorous creation. Not only products to look for, but there are street performers, clowns, musicians and free entertainment running around. It is indeed an artsy affair.
Bauhaus Architecture
The White City Explorations!
There is a reason why UNESCO has given Tel-Aviv the status of World Heritage Site. Ever wondered why? Because the city boasts of huge numbers of white Bauhaus - international style building. So, if you are an explorer then, we recommend you to start from Rothschild Boulevard, Bialik Street, Dizengoff Street to Neve Tzedek neighborhood.
Culture Square
For the culture dose!
This square in Tel Aviv is known for its museums, orchestras, theaters, art galleries, dancing halls and live music venues. The best part is that all of it is free.
Dizengoff Street
Street Art at its best!
One of the favorite places amongst the locals, will surely entice you as well. If you are looking forward to a lazy afternoon - then seat yourself near to Fire & Water Fountain. The place hosts creations from Israeli artists, graphic, fashion and industrialists enthusiasts. Also, every Tuesday and Friday, the street is host to antique-flea market.
Rabin Square
A Memorabilia.
Admire the amazing monument named after Israeli Prime Minister Yitzhak Rabin, soon after his assassination. The monument boasts of Yael Ben-Artzi best work using 16 basalt stones from the Golan Heights.
Tel Aviv Museum of Art
For those lovers of art!
If you are taking your trip to the other side that is, art then head to Tel Aviv Museum of Art and explore works of many Israeli artists - Van Gogh, Monet, Chagall, Modigliani to name a few.
HaTachana
A new kid on the block!
Also known as 'The Station,' and earlier the terminal for Jaffa-Jerusalem Railway, is now turned into a place where art meets uber-locals.
Yemenite Quarter
Cheap Meals
If you are on a budget trip to Tel Aviv then, look no further. Head to meandering alleyways of Yemenite Quarter and grab one of those cheap authentic meals.
The list is not complete because it just cannot be. So, next time you want to book one of those cheap flight tickets to anywhere in the world, think about Tel Aviv. It is no regular destination and offers a variety of things to do for every age-group.
Read More
Don't Just Travel. Make Time Immemorial Family Vacations