Things to Do in Palm Springs
A resort city in Southern California, Palm Springs shot to fame as the vacation destination of choice for America's most popular stars such as Frank Sinatra and Elvis, in the 1950s and 60s. Today, Palm Springs is a thriving metropolitan area and offers entertainment for visitors of all ages. The city is known for its exquisite natural beauty that is perfectly accented by its modern architecture, sparkling pools and array of indoor and outdoor activities. Visit Palm Springs for its trendy neighborhoods, diverse demographic and chic hotels that speak of sophistication and luxury. If you're eager to explore this tourist Mecca, read on to learn more about the best things to do in Palm Springs and find out how you can make the most of your next getaway to this sunshine city.
Palm Springs Aerial Tramway
Perched at an elevation of 6,000 ft. over Palm Springs's most beautiful attractions, the aerial tramway is the best way to get a bird's eye view of the city. It is the largest rotating tramway in the world and leads visitors through a twelve-minute ride over five vegetation zones – traverse through the Sonoran desert to the San Jacinto Mountains. The temperature in the pine forest where the ride terminates is significantly cooler than that at its point of origin, so make sure to bring a jacket. The floor of the tramcar makes two revolutions through the ride's duration, allowing visitors 360-degree views of the terrain below. You can fuel up once you disembark with a delicious meal at the two restaurants located on the summit, or view a short video presentation of the history of the tramway at the Mountain Station. Both tramway stations have been designed by noteworthy architects, and make for excellent photo-ops.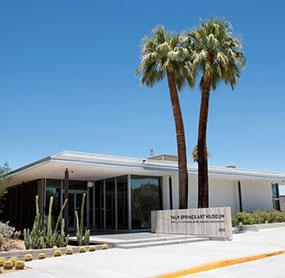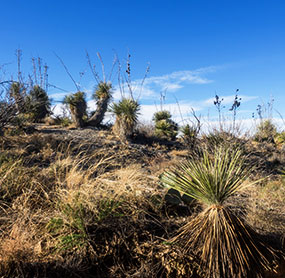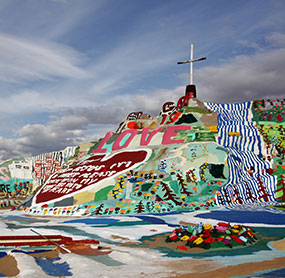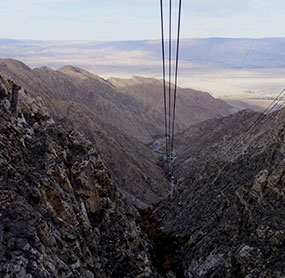 15 Mar 2020 - 19 Mar 2020
14 Apr 2020 - 17 Apr 2020
17 Mar 2020 - 22 Mar 2020
Palm Springs Art Museum
The museum was founded in 1938 as a regional arts, science and performing arts center. The museum's current building was designed by the celebrated local architect - E. Stewart Williams and occupies an area of 10,000 sq. ft. The museum's permanent collection comprises of more than 24,000 objects, which range from fine art photography to Native American art and Mesoamerican artifacts. Expect to see modern painting and sculptural works by notable names such as Henry Moore, Edward Ruscha and Mark di Suvero, and glass art by Dale Chihuly and William Morris. The museum's Annenberg Theater can seat 437 and hosts internationally-acclaimed performers in music, dance and theater. One of the museum's recent projects has involved renovating a 1961 bank building to create the Edwards Harris Pavilion, which now houses exhibits pertaining to architecture and design.
Living Desert Zoo and Gardens
As its name suggests, the zoo is dedicated solely to flora and fauna from the various deserts in the world. The zoo has several recreated desert plant community ecosystems, and specialized focus gardens for agave, aloe, sage, sheep food plants and plants that attract hummingbirds, among others. Look out for the zoo's model LGB railroad that - with 3,000 ft. of track - is one of the largest in the world. Children will particularly enjoy the butterflies-themed exhibit that is home to more than 300 fluttering beauties and the WaTuTu village that is an authentic replica of the original northeast African village. Visitors can also chat with the keepers and meet some of the zoo's smaller residents, including hedgehogs, snakes, fox and owls, in personal encounters. You can also watch the day-to-day functioning of a colony of 10,000 ants, or take your children to the Gecko Gulch - an interactive play area that has a cactus slide, animal tunnels for children to burrow through and a discovery dig area. Before you leave, do make sure to check out the Plein Air Art Collection that has 49 landscape paintings by 22 artists, including some of California's best known names. A day spent at the zoo is definitely one of the best things to do in Palm Springs for the entire family.
Salvation Mountain
Salvation Mountain is quite unlike anything you've ever seen before. A visionary, artistic environment that covers an entire hill, Salvation Mountain is made of straw, adobe, discarded car parts and several thousand pots of lead-free paint. The structure was created by a local resident - Leonard Knight and has several murals and areas painted with religious messages. The site also has a small, dome-shaped museum that contains various gifts left behind by friends and visitors. Salvation Mountain has served as the subject of several documentaries and even as a backdrop for music videos. A trip to this iconic landmark is definitely one of the top things to do in Palm Springs and a way to explore the region's deep artistic tradition.
If you're planning a trip to this sunny, artistic city and are eager to make the best of its sights, views and experiences, look no further than Lookupfare's app or website. Browse through the best cheap flights to Palm Springs and pick out the best hotel deals in the city - you'll be delighted to find just how relaxed, enjoyable and fuss-free your holiday planning can be.
Read More
Don't Just Travel. Make Time Immemorial Family Vacations