Things to Do in Barcelona
What can be more amazing than spending a few days in Barcelona - one of the world's leading economic, entertainment, media, fashion, education, trade fair, culture and arts center. Barcelona is the capital of the Catalan region and is one of the most popular tourist destinations in the world. The city is famous for numerous recreational areas, stunning beaches, comfortable temperatures, UNESCO World Heritage Sites and well – developed infrastructure. If you are planning to visit this dynamic city, make sure to check our list of things to do in Barcelona.
La Rambla, Barcelona: La Rambla is a famous street in central Barcelona which is very popular among tourists and locals alike. The street is often crowded especially during the peak tourist season. Many street performers and mime artists can be found here. The area also hosts two major pop music festivals - the Sonar Festival and the Primavera Sound Festival.
Museu Nacional d'Art de Catalunya: The museum is famous for its exceptional collection of Romanesque church paintings, Catalan art and designs from the late 19th and early 20th centuries. The museum is housed in a huge Italian-style structure dating back to 1929. Officially opened on 16 December 2004, it is one of the largest museums in Spain.
Parc de la Ciutadella: Parc de la Ciutadella receives millions of tourists every year, and certainly deserves a place on your list of things to do in Barcelona. The place is famous for organizing many events. It is a 70-acre park which comprises of the city zoo, the Legislature of Catalonia, a lake, several museums and a large fountain.
Park Guell: A beautiful reflection of Gaudi's artistic talent, Park Guell is a public park composed of gardens and architectonic elements located on Carmen Hill. The park was built between 1900 and 1914 and was opened for public in 1926.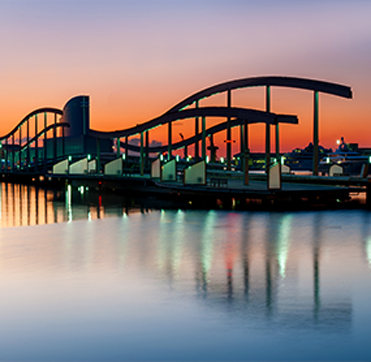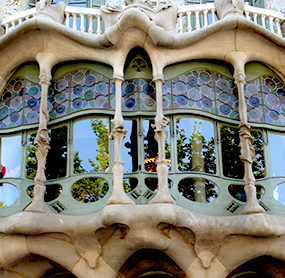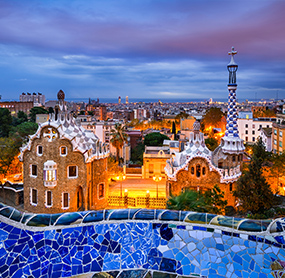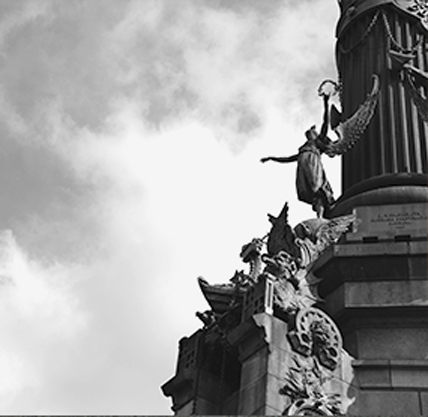 Casa Batllo: A renowned building, a remodel of previously built house, Casa Batllo is located in the center of the city. The building is one among Antoni Gaudi's masterpieces that were redesigned by him in 1904. The roof is arched in a way that it creates the mirage of being a dragon's back. It reflects various designs of stonework, irregular oval windows, colorful mosaic, etc.
Arc de Triomf: The Arc de Triomf was constructed by architect Josep Vilaseca I Casanovas – a Catalan artist. It is located at the northern end of the promenade. It served as the main access gate for the 1888 Barcelona World Fair. The Arc is famous for its brickwork in the Neo-Mudejar style. After the Arc de Triomf was made, similar structures were made in other places including Arc de Triomphe in Paris, Arcul de Triumf in Bucharest, etc.
Casa Mila: Popularly known as 'open quarry,' Casa Mila is a modernist building. In 1984, it was designated as a UNESCO World heritage Site and is currently a prominent spot for exhibitions. Casa Mila consists of two buildings and a few of the notable elements of the building are its roof, fans, chimneys and skylights. The building is open seven days a week.
Palau Guell: Palau Guell is a magnificent mansion designed by Antoni Gaudi between 1886 and 1888. It is a designated UNESCO World Heritage Site and is situated on the Carrer Nou de la Rambla. If you're an architecture admirer, Palau Guell should definitely be on top of your list of things to do in Barcelona.
Columbus Monument: A tall monument of Christopher Columbus located at the lower end of La Rambla. The statue was constructed in 1888 to honor Columbus's first voyage to the Americas.
Temple Expiatori del Sagrat Cor: An Expiatory Church of the Sacred Heart of Jesus, Temple Expiatori del Sagrat Cor is a Roman Catholic Church and a minor basilica. The building is situated on Mount Tibidabo with a large bronze statue of the Sacred Heart. The construction of the church lasted from 1902 to 1961.
Barcelona Cathedral: Also known as the Cathedral of the Holy cross and Saint Eulalia, the cathedral is famous for its stunning decorations, presenting a varied array of domestic and mythical animals. It was built between the 13th and 15th centuries, with major work done in the 14th century.
Fundacio Antoni Tapies: This is a cultural center and a museum highlighting the life and collections of the famous painter Antoni Tapies. The museum was created to endorse the study and knowledge of modern and contemporary art. It was opened in June 1990 and features temporary exhibitions, lectures, film seasons and the activities, periodic shows of Antoni Tapies works.
When looking for flight tickets to Barcelona, have a look at our wide array of flight deals and offers on Barcelona flight tickets. Also, make sure to check out our custom travel offers such as deals under $99, deals under $199, last minute flight deals, first class flights, business class flights, etc.
Read More
Don't Just Travel. Make Time Immemorial Family Vacations