Things to Do in Bangkok
Bangkok is the principal and the most crowded city of Thailand. The city is famous for being one of Asia's most multicultural cities with beautiful temples and palaces, busy markets and vibrant nightlife that has something for everyone. Also, Bangkok is well-known for its vibrant street life and cultural landmarks. Book cheap airline tickets to Bangkok to visit one among the world's top tourist stops.
Already ranked by MasterCard as the top destination for international tourists in its Global Destination Cities Index 2016, Bangkok is visited by the majority of international visitors. Domestic tourism is also prominent. The city saw a great change and grew rapidly during the 1960s through the 1980s and now holds an important impression on Thailand's economy, politics, education, media and modern society. Now the city leads in finance and business. It has become an international hub for transport and health care and has emerged as a provincial hub for the arts, style and entertainment. Once you made up your mind to visit this beautiful city, don't forget to check out the top things to do in Bangkok, as the city's attractions are diverse.
Grand Palace
A group of buildings at the heart of the city, the Palace has been the official residence of the Kings of Siam since 1782. The palace is used for many formal events, ceremonies and state functions. It is one of the most famous tourist attractions in Bangkok. The Grand Palace is enclosed and made up of numerous buildings, galleries, pavilions sets, open lawns, gardens, etc. The half space is open to the public as a museum but it remains a working palace with several high offices still located inside.
Wat Arun
A Buddhist temple situated on the Chao Phraya River is one among the best known of Thailand's landmarks and is often personified as the radiations of the rising sun. The temple derives its name from the Hindu God Aruna. The main characteristic of the temple is its central prang (tower) which is covered with colorful and bright porcelain. The Prang are ornamented by seashells and porcelain which was used as ballast by boats coming to Bangkok from China.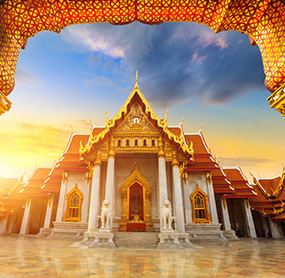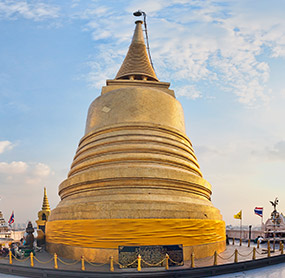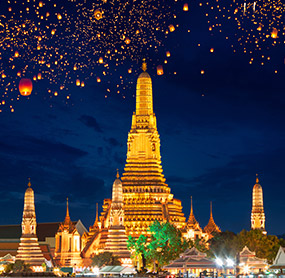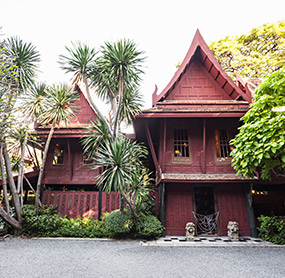 04 May 2020 - 29 May 2020
30 Apr 2020 - 31 Jul 2020
Khao San Road
Constructed in 1892 during the rule of King Rama V, Khao San Road is a popular short street in Central Bangkok and visiting the street is among the popular things to do in Bangkok. Since last 20 years, the road has developed into world-famous 'backpacker ghetto.' In this place, one can find the grouping and interaction of disparate characters such as educated young westerners, high school graduates, military service officials, university students, ordinary holidaymakers, volunteers and much more. Shops located at Khao San Road sell handicrafts, paintings, clothes, local fruits, DVDs, used books, etc. During late evenings, the streets turn into bars and music is played and food hawkers sell roasted insects and exotic snacks. Other several attractions are cafes, pubs, etc.
Lumpini Park
An open public space, Lumpini Park offers trees, flowers, animals, playgrounds and contains an artificial lake where visitors can rent boats. There is a smoking prohibition in the park, dogs are not allowed and cycling is allowed only during the day between 10:00 to 15:00. Many joggers can be seen in the park early in the morning and evening. Other attractions located in the park are King Rama VI statue, bird watching, smiling sun ground (a place for disabled people), Bangkok Elder Citizens Club, Home of Hope, BMA Apprentice School, Lumpini Park Library, Lumpini Youth Center, Sri Thai Derm Food Center, Lumpini Lake, Buddhist Dharma Activities and Music Festival. Get low-cost airline tickets to Bangkok and make your trip to Thai Capital unforgettable.
Dusit Zoo
The oldest wildlife park of Thailand, Dusit Zoo is regarded as the most popular zoo in Bangkok, attracting approximately 2.5 million visitors annually. This zoo was constructed by King Chulalongkorn to be used as his private garden adjacent to the royal palace. Over 1600 species of domestic and international animals are found in the zoo including 331 mammals, 170 reptiles, and 849 birds. A large variety of animals, ranging from elephants, camels, penguins to monkeys, alligators, kangaroos and giraffes are found in the zoo. An animal hospital, zoo museum and educational center are also among the features of the zoo.
Bangkok National Museum
The largest museum in Southeast Asia, Bangkok National Museum features exhibits of Thai art and history. At present, the gallery contains exhibits showcasing Thai History back to Neolithic times. The museum normally remains open from Wednesday to Sunday except on national holidays. The volunteers of the museum offer foreign language tours of the museum.
Apart from these attractions, there are many other things to do in Bangkok including the world's best outdoor recreations and nightlife activities.
Read More
Don't Just Travel. Make Time Immemorial Family Vacations