For many of us, a vacation is no fun if the furry members of the family can't be a part of it. But air travel can be very stressful for both - you and your pets. If you're about to fly soon with your pet, then it is the right time for you to start preparing for it. There are some things that are essential to consider when you and your furry little ones are getting ready for air travel.
If your pet is too big to travel under your seat, then it is best for you to travel without your four-legged family member. If you have to bring your four-legged family member along on the flight, here are a few air travel tips that will help in making the journey smooth. All you need to do is choose a destination, grab a few cheap airline tickets and follow these important tips for an amazing vacation.
Visit your pet's veterinarian for a medical checkup, and make sure that all the vaccinations are up-to-date. Get a health certificate from your veterinarian dated within 10 days of departure. If you're traveling to a destination located outside of continental United States, then additional planning is needed including health care requirements; that may differ from domestic pet travel requirements. It is also essential to contact the foreign office of the country you're visiting for detailed information.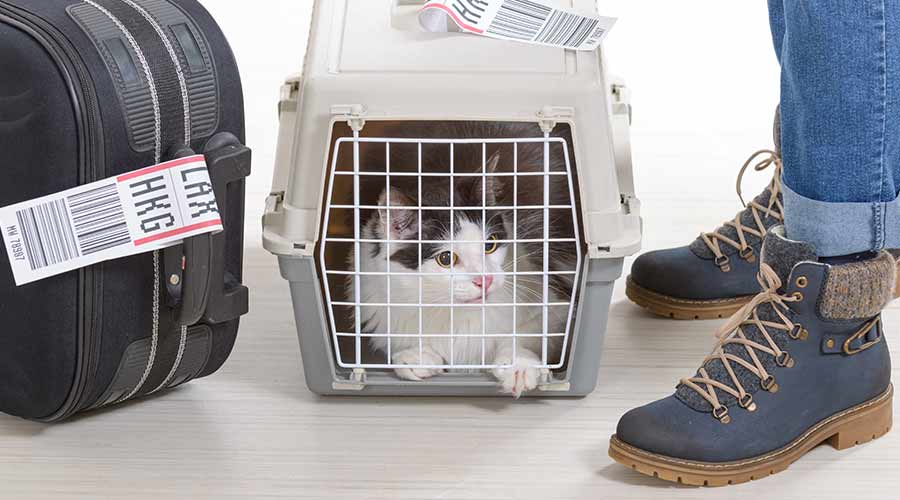 If possible, book a direct flight as this will decrease the travel time; which in turn would decrease the stress your pet might be going through due to air travel. It would also lessen the chances of your beloved pet being left at the tarmac during bad weather or getting mishandled by airport baggage personnel.
It is very important for your pet to have a microchip for identification. They also need to wear a collar and ID tag. The collar should also include the information of your home city and destination, in case the furry one decides to make a run for it. Breakaway collars are good for cats.
It is necessary to transport your pet in a USDA- approved pet-shipping crate that is spacious enough for s/he to sit, stand and turn around comfortably. You can purchase the shipping crates from pet stores or airlines. Attach some dry food (preferably in a cloth pouch) on the crate. Put a no-spill source of water in the crate so that your pet does not get dehydrated during the journey. It is advisable to attach a current image of your pet at the top of the crate for identification purposes. God forbid if your pet escapes from the crate; having a Photo ID could be a complete lifesaver. You can also carry a photograph of your pet.   
If your pet is with you in the cabin, under your seat, make sure that s/he is snuggled safely in a durable, escape-proof crate. You have to be especially careful with cats, as a feline can squeeze itself through small openings. It would be wise to double check the crate's lock.