The Samba Parade is a greatly arranged show of various events in Rio de Janeiro. It is a disciplined parade where each person has a specific role and place according to the costume in a particular wing, of a specific section of the samba school.
The preparations start early in the month of March or April of the previous year. Each Samba School organizes thousands of cheerleaders to create the various forms of school's show. Firstly, a theme is chosen, the music is designed then, costumes are made, floats are built and the carnival designer sets the choreography. By the month of December, practice begins, and in the last week, the sambas are recorded and released to record shops.
The carnival fever soon spreads all over when the 'Fat King' also known as 'King Momo' gives the signal; it is samba time in Rio. And when the parading day finally approaches, schools present their long awaited show within a given span of time i.e. between 65 to 85 min. Each Samba school represents a social club or a different neighborhood. The grand carnival is a big competition among the schools in which the music, lyrics, themes, costumes and choreography are at stake.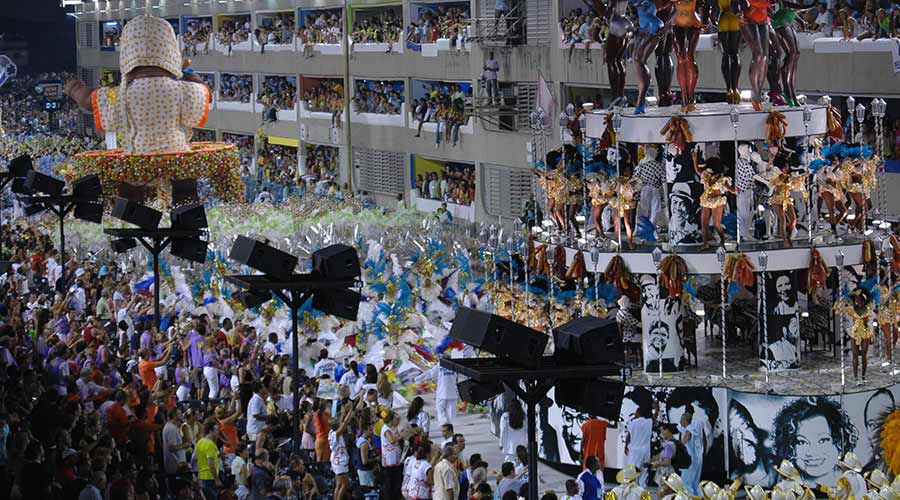 Schools present themselves with thousands of members in different sections of dancers, musicians, and floats. The participants are then judged by more than 40 judges who give points according to specific criteria.
Well, the Samba Parade in Rio de Janeiro will give you Goosebumps if you watch it live. The experience of screaming in between 90,000 people is something you can't experience anywhere in the world. There is no denying to the fact that nothing can compensate the experience of watching the grand celebrations live with the people of Rio and thousands who have come from different parts of the world.
DID YOU KNOW?
Criteria on which the schools are judged at Samba Parade:
Percussion band
Samba song
Harmony
Flow and spirit of the participants
Theme of the year
Overall impression
Floats and props
Costumes
Vanguard group
The flag carrying couple