We are a species that is constantly bored. On top of being constantly bored, we are also huge adrenaline junkies. We constantly seek new thrills, new adventures. Our thirst for adventure is only matched by our search for beauty and self. United States of America is one of the greatest countries for adventure seekers. The vast abundance of national parks, varied geography, and untouched natural beauty make it a dream country for adventure vacations. Swiftly flowing rivers with beautiful forest covers are great spots for wildlife exploration and can be found in abundance all over the country. The multitude of rock formations around the country make for some great rock climbing locations. The vast shoreline skirting the east and west coast give way to mesmerizing surfing experiences. The abundance of forest covers, different kinds of vegetation, and unexplored trails offer some of the most beautiful trekking paths in the world. Truly, if you don't want your adrenaline flow to stop, then the US is your best bet. Read on to know about some of the best places in the US for adventure vacations. The list includes places for surfing, kayaking, river rafting, rock climbing, trekking and mountain biking. Book last minute flights to the following locations and let the adrenaline rush through your body.
Santa Cruz, California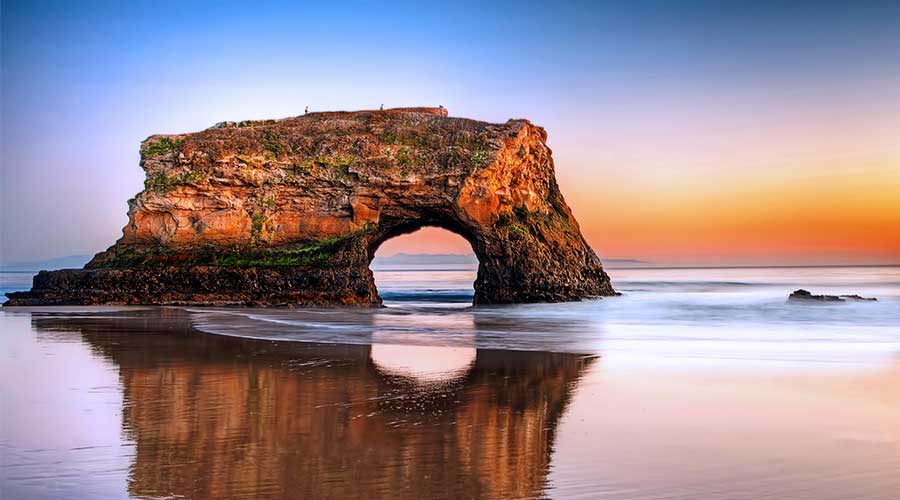 Often referred to as the "Surf City," Santa Cruz is a surfers dream. Ranked as one of the top surfing destinations in the USA, Santa Cruz offers surfing waters for all kinds of surfers. As a beginner you can easily get lessons and calm enough waters to learn the sport. The weather in Santa Cruz is always favorable. The surge in water and swelling waves are wonderful for mid-level and experienced surfers as well. Head to Santa Cruz if surfing is your thing, it will not disappoint. Book cheap airlines tickets to Santa Cruz and conquer the waves.
Moab, Utah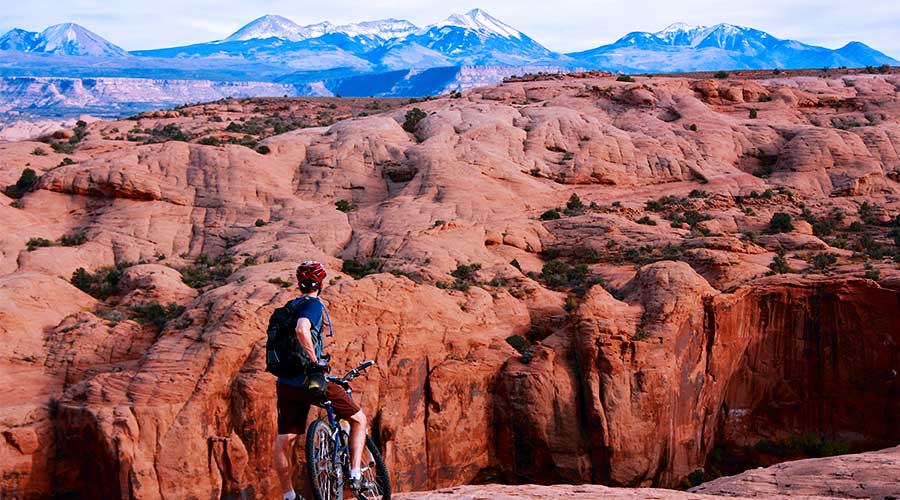 Home to two national parks, Moab is bountiful when it comes to adventures. The beautiful arch formations of red rocks and canyon gorges offer everything from trekking to rock climbing. But the best thing to do here is mountain biking. The plateau like landscape, unhindered views, and absolutely wonderful trails are great for mountain biking. Several different trails allow bikers of all kinds to ride here. Beginners and experienced bikers alike fall in love with Moab. Of course, the picturesque views along the trails are captivating but riding is one of the most memorable things you will do here. So, oil your bike, tighten your shoe laces and pedal away atop some of the greatest natural structures in the world. Make hotel reservations in Moab and explore the adventure haven with comfort and ease.
Nashville, Tennessee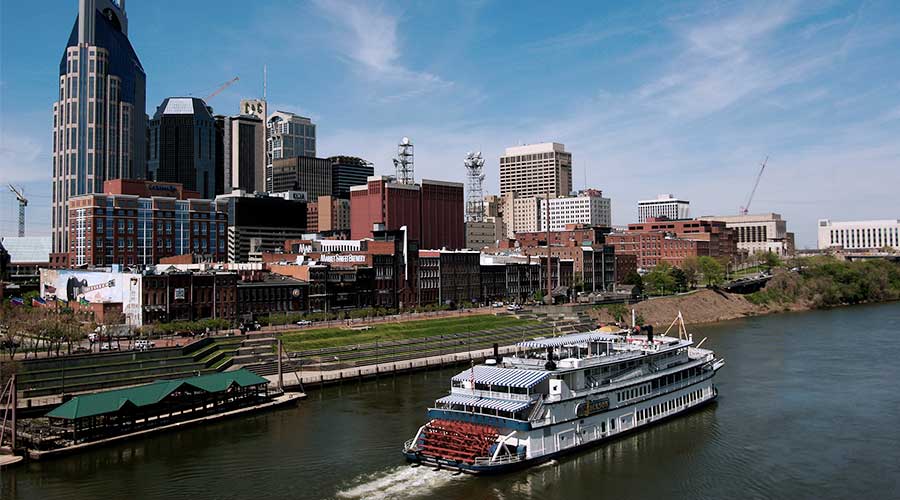 Nashville houses beautiful river side views, dense forest canopies, and dazzling waterfalls. The river and lakes provide ample of water for water sports. The area is famous for canoeing, kayaking, boating, and swimming. The water here is calm and gentle. A lot of people flock to Nashville for fishing. We, however, suggest going for tubing. It's fun, it's easy, and you can do it with your family. Tubing is an activity wherein a round raft is tied to a boat and then dragged over the water body. In some cases, the raft might just be left to float along with the river's currents. In any case, Nashville is the best place to go tubing in the country.
Devil's River, Texas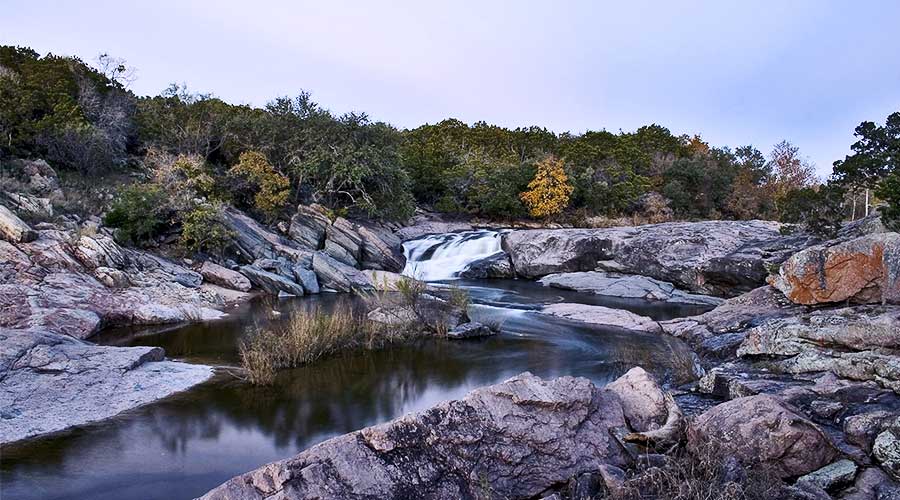 The name is scary and rightly so. Located in the southern state of Texas, Devil's River is unpredictable. One moment, it can be calm and right at the next moment it can get pretty violent. This one is not for unplanned trips or the faint hearted. The area surrounding the river is beautiful. It is lined with hills, desert plants, swamps, and beautiful banks. What makes it extraordinary, however, is its rapids. People from all over the world visit Devil's River to kayak the wild waters. Beware though, the river is exceptionally difficult to navigate and requires prior permission. There are ample of campsites along the banks and visitors can spend only a night here.   
Colorado River, Grand Canyon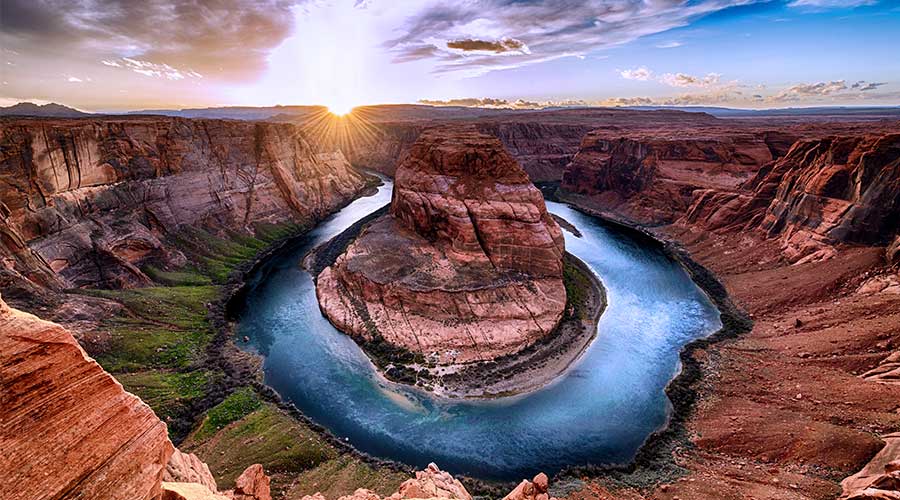 Grand Canyon is one of the seven natural wonders of the world. The canyon is vast and spreads as far as you can see. The deep gorges and plateau are a sight to behold. Then there is the mighty Colorado River that runs through the canyon. The combination of these two create some of the most picturesque views ever. If you are lucky, you might even witness the cloud inversion phenomenon. Grand Canyon and Colorado River offer ample of adventure options. Off-roading is a very prominent thing and regular off-roading tours take place in the area. Colorado River offers wonderful white rapids. The rapids are brilliant for river rafting. To raft through the scary rapids with your squad, zipping past canyon after canyon, can be a life changing event. If you fancy river-rafting then this place is the best for you. Rent a car and go off-roading in the Grand Canyon. It is, after all, once in a lifetime opportunity.
Zion National Park, Utah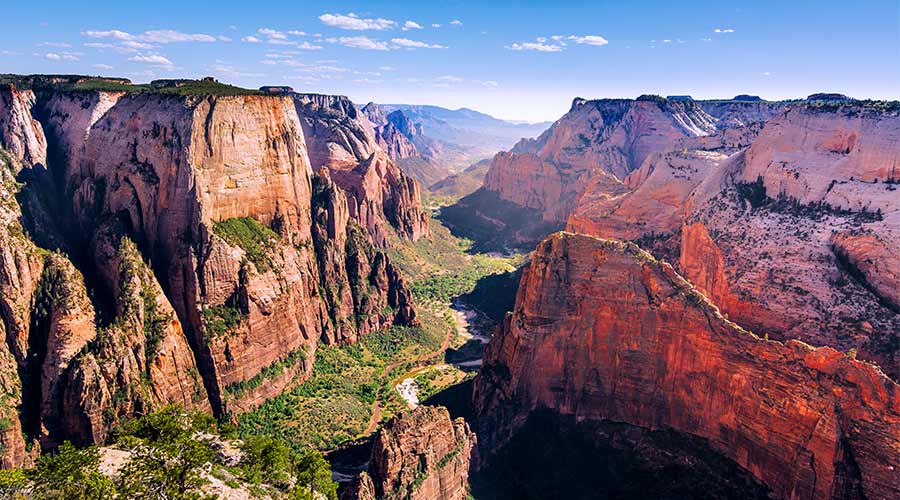 Zion National Park is home to over a 1000 plant species and more than 60 mammal species. Wildlife spotting is extremely famous here, but that is not the only thing it's famous for. The park has some jaw-dropping sceneries. The multitude of flora and fauna is in itself a great sight but the addition of huge sandstone cliffs to the package makes it a perfect adventure location. The park has some amazing trails and picturesque roads. The sandstone cliffs provide great opportunity for climbing enthusiasts. From beginners to experts, everyone is wowed by the experience. Beginners can also get rock climbing lessons here.
Glacier National Park, Montana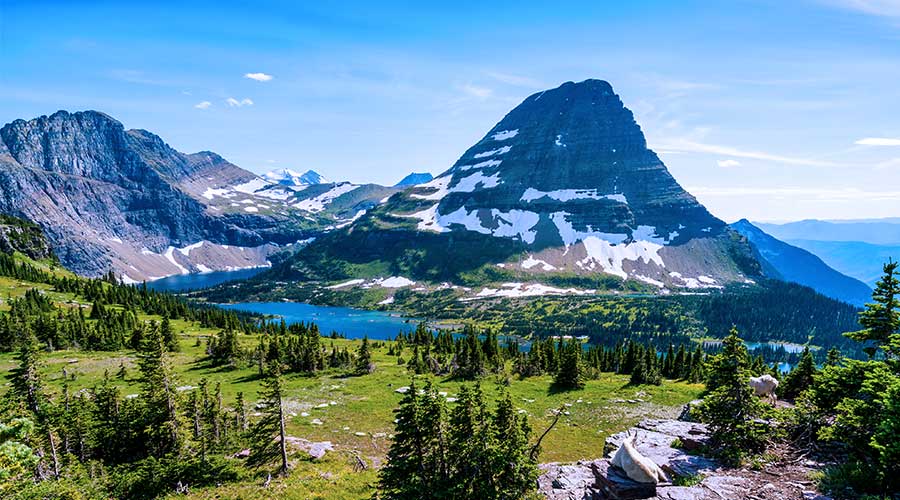 This is by far the best location on the list. Glacier National Park contains over 1 million acres of land. The park includes two mountain ranges and over 140 lakes. There are 100s of animal species that live here and over a 1000 species of plants. Historically, a settlement area of Native American Indian tribes, Glacier National Park lies in the state of Montana. The extraordinary variety of natural habitats and exemplary views make this park one of the best locations on the planet for trekking. Visitors can trek here for days without having to see the same scene twice. The beauty of this place is so great that once you have trekked through Glacier National Park, trekking anywhere else would be underwhelming. Find the best domestic flight deals online and visit Glacier National Park. It is a must-visit place.