Sitting through cramped spaces for hours at a go, constant shrieks of crying babies, loud noise of the engine and jet lag following a long-haul flight is the most dreaded experience. All excitement of reaching the destination subsides when flight durations extend to exorbitant lengths. Restless and confined to a seat, flyers keep glancing at their watch waiting for the moment when it's time for them to barge out of the aircraft. After booking cheap flight tickets, adopt these 10 ways to make long-haul flights less of a nightmare-
Book tickets in advance: 
One way to ensure that a long-haul flight will be endurable is to plan your travel in advance. This way you get access to your preferred seat and prevent getting stuck-up in an uncomfortable position between annoying strangers.
Plan a flight during daytime or late evenings: 
Catch a flight that is scheduled to take off during daytime or late evening where a long-haul flight is concerned. This way, during most of the flight, your time will be spent sleeping.
Pack your entertainment means: 
Many airlines provide in-flight services like movies, TV series, music and magazines; but not all do. So, deck yourself with your favorite book, music and movie collection to while away your time.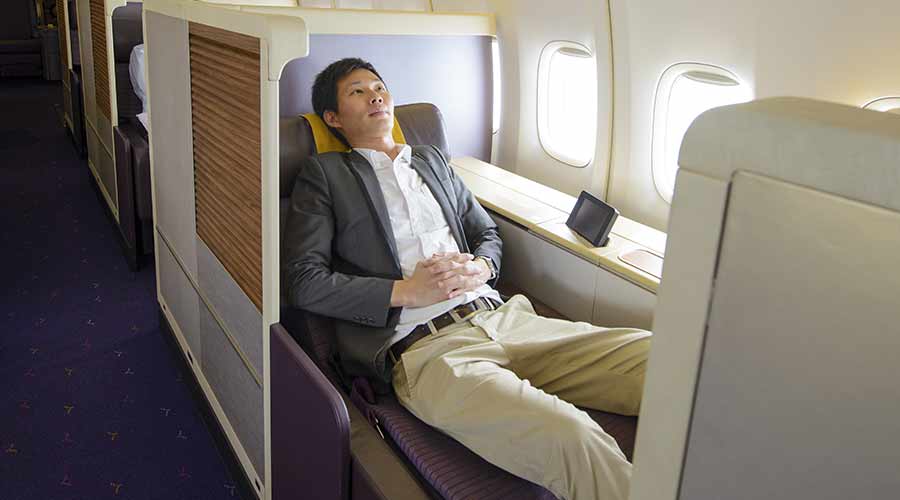 Dress easy-breezy:  
The airport look has become a rage these days, but don't bother much! Wear clothes that are loose and comfortable on your skin. Also, carry extra layers to cover up when temperatures get too low inside the aircraft.
Keep hydrated:  
The space inside the metal vessel becomes very dry and it is highly recommended to drink lots of water onboard. However, avoid alcohol and caffeinated drinks as they mount up the anxiety and may cause dehydration. Stick to water and keep drinking.
Carry your sleeping kit:  
Do not forget to pack your sleeping kit that has an eye mask, ear plugs and a neck pillow. Also, people who are akin to using pills for sleeping, must carry it along.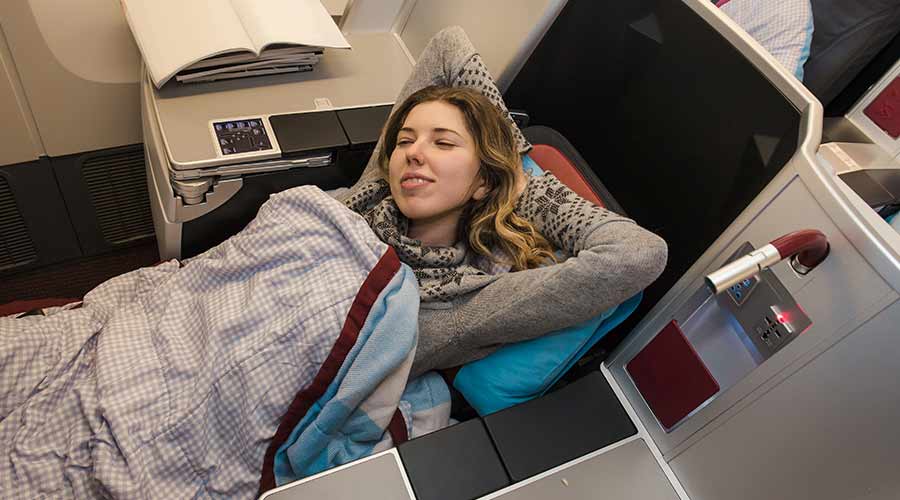 Keep it hygienic: 
Airplanes are breeding place for germs, thriving everywhere. Use a sanitizer to wipe-off the arm rest, table trays and seat belt fastener as they are heavily infested with germs. Also, use sanitizers after opening and closing the lavatory doors.
Pack toiletries: 
Whenever you are boarding a long-haul flight, make sure to pack certain essentials like toothbrush, toothpaste, face wash, sanitizer, wet wipes and the likes. Keep them close-by in your carry-on baggage as you may need them during flight hours.      
Pack your own snacks: 
Keep your own munchies to take quick-bites when hunger strikes. The food served on flight may not be very healthy and filling, so pack your favorite healthy snacks.
Move around: 
Make sure that you move around at regular intervals to avoid having a sore body. So, get up and stretch when needed. However, try not to disturb your co-passengers while moving around in the aisle.
Swearing by these 10 habits will make you less grumpy and agitated when flying long hours on a flight. On last minute flights to distant lands, feel a change in your journey as you adhere to these habits.