Things to Do in Seattle
The Emerald City
Seattle is the largest city in the Pacific Northwest and is nicknamed as 'The Emerald City' for its profusion of evergreen trees. The city is nestled between the Cascade Mountains in the east and the Olympic Mountains in the west, offering glorious views for miles around. Today, Seattle is a bustling commercial hub, and is the seat of some of the world's largest corporations, including Amazon.com, Costco, Nintendo of America, Starbucks and T-Mobile. Seattle also has a vibrant arts and cultural scene, and is known for its distinctive neighborhoods, each of which has its own unique character and personality and contribute to creating the city's diverse cultural fabric. Read on to learn more about the best things to do in Seattle and find out how you can make the most of your next getaway to this vivacious, effervescent city.
Pike Place Market
Visitors often describe Pike Place Market as 'Seattle in a Nutshell' and for good reason too! The market has a diverse assortment of unique shops, including antique dealers, shops selling comic books and collectibles, and small family-owned restaurants, and is a thriving hub of activity. It is one of the oldest continuously-operated farmers' markets in the country and is Seattle's most popular tourist destinations, receiving more than 10 million visitors annually. One of the market's most popular attractions is the 'Pike Place Fish Market'- where employees toss large fish to one another instead of passing them. One of the market's longest standing traditions, these flying fish have received more than their fair share of screen time, having been featured on TLC as well as on the sitcom 'Fraiser'. Look out for the market's unofficial mascot – Rachel, a bronze piggy bank that receives as much as USD 9,000 in various currencies. The market is also a popular site for buskers or street entertainers, who shall add a touch of eclectic to your Pike Place Market shopping experience.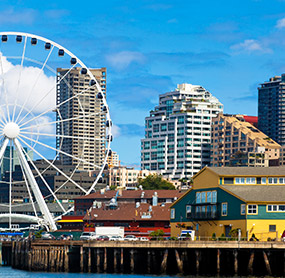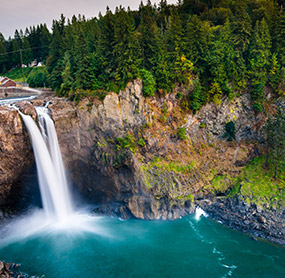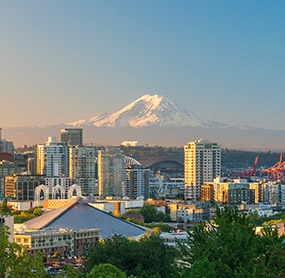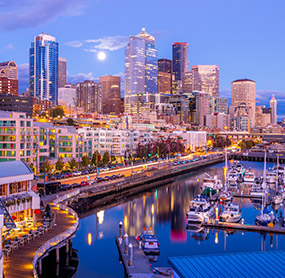 23 May 2020 - 30 May 2020
30 Jun 2020 - 06 Jul 2020
25 May 2020 - 03 Jun 2020
10 Jun 2020 - 15 Jun 2020
Museum of Pop Culture
A non-profit museum dedicated to contemporary pop culture, this museum was founded by Paul Allen - co-founder of Microsoft. The museum is located in a 140,000 sq. ft. building designed by Frank Gehry, which houses several galleries. It has one of the largest indoor LED screens in the world in its 'Sky Church' concert venue, and has a number of exhibits that span the genres of fantasy, horror cinema, video games and science-fiction literature. The 'Sound Lab' and 'On Stage' offer visitors the opportunity to experience the various instruments used in rock-and-roll first hand, and to even perform before a virtual audience. Look out for the guitar sculpture titled 'IF VI WAS IX', which is made up of more than 500 musical instruments and 30 computers. The museum also has the largest collection in the world of rare artifacts, handwritten lyrics and the personal instruments of such prominent Seattle musicians and bands as- Nirvana and Jimi Hendrix. The museum also has the popular 'Icons of Science Fiction' exhibit and presents the annual Science Fiction and Fantasy Short Film Festival. A visit to the Museum of Pop Culture is definitely one of the top things to do in Seattle for music buffs.
Chihuly Garden and Glass
This place is an exhibit in the Seattle Center dedicated to the life and work of the acclaimed local sculptor Dale Chihuly. The Chihuly Garden and Glass has a delightful collection of fine glass art. A suite of dark and light rooms introduce you to some of Chihuly's best designs, including a 100 ft. long suspended sculpture, which is one of the artist's largest. The exhibit also has a multi-use space called the 'Glasshouse' and a 20,000 sq. ft. landscaped garden adorned with artwork and paintings by Richard Hartlage.
Space Needle
The distinctive observation tower was built for the 1962 World's Fair and has since become an iconic landmark symbolizing Seattle. Its flying saucer-like design includes an observation deck at an elevation of 520 ft., as well as the rotating Sky City restaurant at 500 ft. Ascend to the top of the needle via elevators that travel at 10 miles per second, ensuring that you reach the deck in only 41 seconds. The Space Needle has been designated as a historic landmark and has appeared in several Hollywood films, including 'Sleepless in Seattle' and 'Austin Powers'. The needle is also featured on the default Microsoft Windows 8 wallpaper. A visit to the Space Needle is definitely one of the top things to do in Seattle, given this structure's significance in Seattle's skyline.
If you're planning a trip to this iconic city and are eager to make the best of its sights, views and experiences, look no further than Lookupfare's OTA. Browse through the best cheap flights to Seattle and pick out the best hotel deals in the city - you'll be delighted to find just how relaxed, enjoyable and fuss-free your holiday planning can be.
Read More
Don't Just Travel. Make Time Immemorial Family Vacations