Things to Do in Saint Augustine
St. Augustine was founded in 1565 by the Spanish explorer- Pedro Menendez de Aviles. It is the oldest European settlement in the country, as well as one of its most popular tourist destinations. History lives and walks in St. Augustine's many museums, historic streets and Spanish architecture. The subtropical climate ensures a year-round pleasant weather and cold spells are usually short-lived to only a few weeks. For the more gastronomically inclined, St. Augustine also offers a concise assortment of dining alternatives, in the form of charming old-world restaurants and cafes. Before you plan your next trip to this quaint, historic city, make sure to first check out our list of the best things to do in St. Augustine.
Hotel Ponce de Leon
This historic hotel is famous for several reasons – it was built by Henry M. Flagler, a millionaire developer, in the year 1888, and was designed by the globally acclaimed architects- John Carrere and Thomas Hastings. It was also the first structure that was entirely built in poured concrete and to be fitted out with electricity, courtesy of Thomas Edison, a friend of Mr. Flagler. The hotel was later accompanied by an artist colony that attracted several prominent artists including Martin Johnson Heade. The hotel was also used as a World War II coast-guard training center. It is now the property of Flagler College and is open to visitors via guided tours. A visit to the hotel is definitely one of the best things to do in St. Augustine and also one of the most interesting ways to learn about St. Augustine's prolific past.
Lightner Museum
The museum is located in the exquisite 'Hotel Alcazar'- another property developed by Henry M. Flagler for wealthy tourists. The hotel was built in the year 1887 and is designed in a Spanish Renaissance Revival style. It currently serves as a museum for artifacts from the American Gilded Age. The first of the museum's three floors is fashioned after a Victorian village. This floor also has a music room that has numerous mechanized musical instruments that date back to the 1870s. The second floor is dedicated to cut and stained glass works, while the third floor has paintings, furniture and sculptures. Expect to see oil paintings by Paul Trouillebert and Leon Comerre, and sculptures by Jean-Baptiste Carpeaux and Randolph Rogers, among others.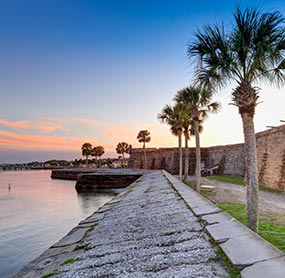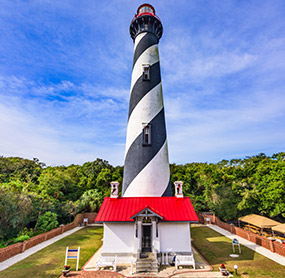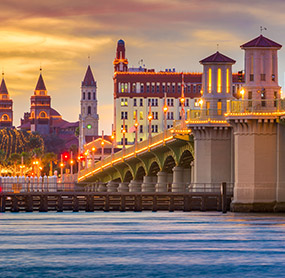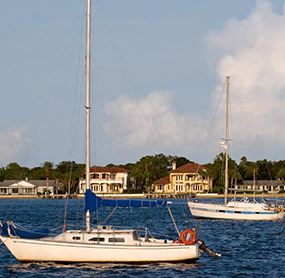 20 May 2020 - 04 Jun 2020
15 May 2020 - 17 May 2020
07 Jun 2020 - 13 Jun 2020
07 Jun 2020 - 13 Jun 2020
Castillo de San Marcos National Monument
One of the oldest masonry forts in the country, Castillo de San Marcos National Monument was built in 1695. The fort has changed hands six times, under the purview of four governments - Spain, Great Britain, The Confederate States of America and The United States of America. It was also used as a military prison for members of Native-American tribes: Osceola, the famous Seminole war-chief, was incarcerated here. The Native-American art form - 'Ledger Art' originated at the fort. The fort was declared a National Monument and is now a popular tourist attraction. It has also enjoyed its share of screen time, in the television shows 'Monumental Mysteries' and 'Ghost Adventures'.
Government House
The former official residence of the governor of St. Augustine, The Government House is a painstakingly restored historic building. It was used as a military hospital during the American Civil War, and subsequently as a courthouse and customs house. The building has now been converted into a history museum and showcases a number of rotating exhibits.
Alligator Farm Zoological Park
One of St. Augustine's oldest attractions, this zoo is definitely not for the faint of heart. It is the only zoo in the world to have every crocodilian species from around the world. Expect to see no less than 24 species of crocodile, alligator, gharial and caiman, in addition to various other reptiles, mammals and birds. Look out for the exotic monkeys (including the world's smallest monkeys), hornbills and Cape Griffon vultures. The zoo's Komodo dragon enclosure displays lizards and snakes that share their habitat with the saltwater crocodile. The zoo also has talks and animal shows being conducted throughout the day. A day at the Alligator Farm Zoological Park is definitely one of the coolest things to do in St. Augustine, especially for Nature-lovers.
Villa Zorayda Museum
The museum is located in a castle-like house that was built by Boston native and eccentric millionaire - Franklin W. Smith, who also went on to sell the house and a part of his expansive art-collection to the Syrian merchant - Abraham Mussallem. Today, the museum exhibits the art and antiques collection amassed by Mr. Smith and Mr. Mussallem, including Middle Eastern hand-pierced brass lamps, oriental rugs, carved furniture, sculptures and Egyptian artifacts. The house's interiors are as exquisite as the collections they house, and contain intricate detailing that resembles the Alhambra Palace in Spain. The hand-painted wooden panels and tiles, intricate fireplaces and stained-glass windows make this house a beautiful, if somewhat surreal, work of art.
If you're planning a trip to this pleasant, diverse city, look no further than Lookupfare's OTA. Browse through the best cheap flights to St. Augustine and sort through the best hotel deals in the city - you'll be delighted to find just how relaxed, enjoyable and fuss-free your holiday planning can be.
Read More
Don't Just Travel. Make Time Immemorial Family Vacations