Things to Do in Orlando
The Theme Park Capital of the World
For most people, Orlando is synonymous with its theme parks – namely Disney World, Universal Studios and Sea World. And yet, Orlando is so much more. With its leafy boulevards, vivid cultural scene and several exquisite gardens, the city has enough to entice visitors of all ages. It is hardly surprising then, that Orlando receives upwards of 52 million tourists every year. Orlando's year-round pleasant weather and warm, happy smiles are even more reasons why you should consider booking a cheap flight to the city, especially if you're planning a getaway for the entire family. To learn more about the best things to do in Orlando, do take a look at our list of the city's most popular and beloved attractions.
Universal Orlando Resort
Orlando's second-largest theme park resort, Universal Orlando comprises of two theme parks and is one of the city's biggest draws. The resort comprises of several themed areas that are inspired by popular film, television and music franchises, and is designed to offer guests the experience of visiting an actual set. The Wizarding World of Harry Potter is one of the resort's most popular attractions, as is CityWalk – the resort's entertainment district that has several night clubs, and shopping & dining venues. Universal Orlando also has five hotels that are located in close proximity to the theme parks and are accessible to guests via water taxi or shuttle bus services.
Walt Disney World
Orlando wouldn't quite be what it is today without its iconic Walt Disney World Resort-- the most visited resort in the world. A sprawling 40 sq. mile entertainment complex, Walt Disney World was developed by its founder and namesake (Walt Disney) in the 1960s. Walt Disney World has four theme parks, namely Magic Kingdom, Epcot, Disney's Hollywood Studios and Disney's Animal Kingdom, as well as two water parks. It also has four golf courses and several on-site resorts. Journey through the park on the complementary Walt Disney World Monorail System or hop onboard the water taxis and ferries. Before you leave, don't forget to shop for souvenirs at Disney Springs - the outdoor shopping, dining and entertainment complex.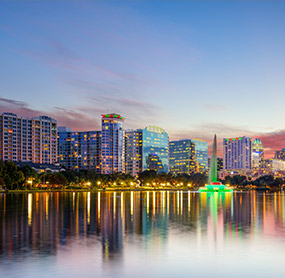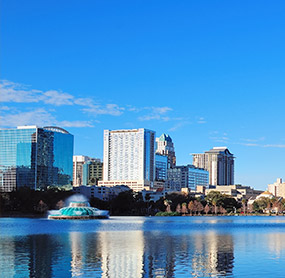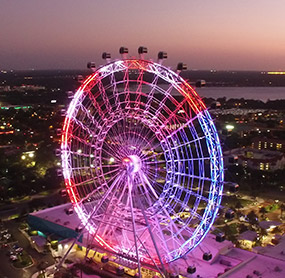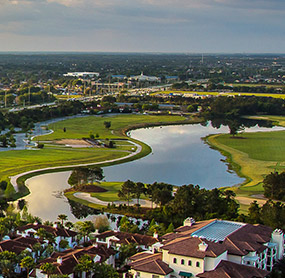 04 Jun 2020 - 11 Jun 2020
09 May 2020 - 15 May 2020
26 May 2020 - 30 May 2020
15 May 2020 - 19 Jun 2020
Audubon Center for Birds of Prey
When you tire of the whole theme park routine, take a break at this unconventional lakeside rehabilitation center that is dedicated to Florida's raptors. Visitors to the center can view and learn all about bald eagles, kites, ospreys, owls and falcons, and about the efforts being made to help conserve these species. The Magic of Flight Barn, where birds undergoing rehabilitation are housed, and the manmade wetland that improves the park's water quality are especially informative. A visit to the Audubon Center for Birds of Prey should definitely feature on your list of things to do in Orlando, if you're a true nature lover.
Maitland Art Center
The Maitland Art Center was founded as an artist colony by J. Andre Smith – a noted architect and artist, in 1937. The center is dedicated to experimental art and has hosted several noteworthy artists including Ralston Crawford, Consuelo Kanaga and Milton Avery. The center is listed on the US National Register of Historic Places. Its building is a rare example of Mayan Revival or Fantasy architecture. Several artist residency programs are also offered here, as are fine art classes for children and adults.
Wells' Built Museum of African American History & Culture
The Wells' Built Museum was originally constructed as a hotel by Dr William Monroe Wells - a prominent African American physician and one of Orlando's first black doctors. The hotel was built with the intention of accommodating African Americans who were banned from segregated hotels, and has hosted several prominent African American performers, including Ella Fitzgerald, Ray Charles, Cab Calloway and Louis Armstrong. Spread over 6,000 sq. ft., the museum now has an extensive collection of memorabilia pertaining to Orlando's African American community, such as displays dedicated to the Civil Rights movement in Orlando as well as noteworthy African American art. You can also step into one of the hotel's original guestrooms and view the authentic furniture, beadwork and decorations.
World of Chocolate Museum and Café
One of the coolest things to do in Orlando if you're a chocolate lover or are travelling with one, is to stop by the World of Chocolate Museum which, as the name suggests, is dedicated to the history of one of the world's most beloved foods. An interpretative tour guides you through the museum's top exhibits, including 25 chocolate sculptures of some of the most famous landmarks and people in the world. Explore the chocolate-making process and end your tour at the tasting room, where you can savor fine chocolates from around the world.
Are you eager to explore Orlando's intriguing sights, sounds and experiences? Make sure to check out Lookupfare's website or app to find the best flights to Orlando, sit back and enjoy the most relaxed and fuss free holiday experience of your life.
Read More
Don't Just Travel. Make Time Immemorial Family Vacations