Things to Do in Myrtle Beach
Myrtle Beach is heralded by the sight of its towering 'Sky Wheel', which anchors more than 60 miles of luxuriant white sand. Unsurprisingly, Myrtle Beach is best known for its sweeping beaches that make it one of America's most popular tourist spots. Myrtle Beach welcomes over 14 million visitors every year, who throng to the city's many beaches, golf links, seafood restaurants and shopping destinations. The area is also popularly referred to as the 'Grand Strand' and is just the place to head to for a classic all-American summer holiday. Read on to learn about the most exciting things to do in Myrtle Beach, which definitely warrant taking a cheap flight to this vibrant city.
Broadway at the Beach
Encompassing 700,000 sq. ft. of bars, shops, a movie theatre and an aquarium- Broadway at the Beach literally has something for everyone. The complex is divided into various zones, which include 'New England Fishing Village' and 'Heroes Harbor and Celebrity Square' (the nightlife district). The complex is also the site for several noteworthy restaurants, including Hard Rock Café and Johnny Rockets. Ripley's Aquarium has thousands of colorful marine animals and even an impressive shark-tank, which you can view while travelling on a moving sidewalk through a glass-enclosed tunnel. The aquarium's 'Rainbow Rock' is another popular attraction and has thousands of exquisite species of Pacific fish.
Barefoot Landing
Another impressive shopping complex, Barefoot Landing was the first major tourist area in the city and has more than 100 shops, several restaurants and a brewery. Stop by the 'House of Blues' and 'Alabama Theatre' that host performances every night, or make a beeline for 'Alligator Adventure' – one of the largest reptile parks in the world. Children will enjoy the carousel and feeding the fish. Step aboard the 'Barefoot Princess' and cruise past the many sights and sounds of the Intracoastal Waterway, or sign up for a haunted walking tour to learn about the Great Strand's scariest ghosts.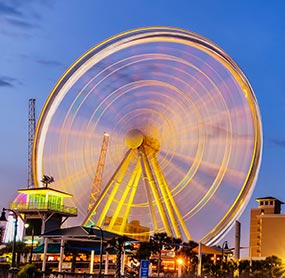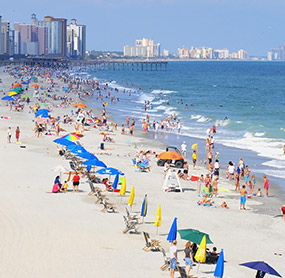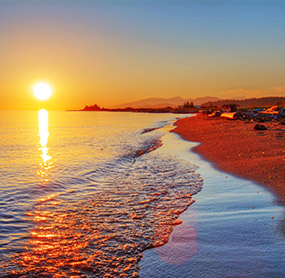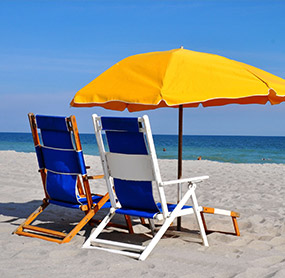 21 Apr 2020 - 22 Apr 2020
12 Mar 2020 - 15 Mar 2020
The Carolina Opry
The Carolina Opry started in a 1,000-seat theatre on Surfside Beach. The show's popularity inspired its founder – Calvin Gilmore, to build the current 2,200-seat, state-of-the-art theatre in Myrtle Beach. The award-winning, two-hour show is a sensory delight and features lively music, comedy and dance. It is the only show to have won every major South Carolina tourism-award and has been voted as the top-rated show for 23 years. In addition to its titular show, the theatre also features 'The World's Biggest Laser Light Show' and 'Good Vibrations', the latter featuring the greatest hits from across several decades. Attending the Carolina Opry is undoubtedly one of the best things to do in Myrtle Beach with your family and should definitely feature in your itinerary.
Legends in Concert
The world's greatest live tribute show honors current and former stars with extravagant performances. Expect to view acts dedicated to Madonna, Elvis Presley, Rod Stewart, Michael Jackson, Britney Spears and The Temptations, among others. The show is staged in Lakeshore Village at Broadway by the Beach, and makes for a wholesome, family-friendly entertainment.
Mount Atlanticus
Located on North Kings Highway in Myrtle Beach, Mount Atlanticus comprises of two 18-hole miniature golf courses – 'The Conch' and 'The Minotaur'. The tiki-themed center has many water features and interesting wall-art, and offer visitors who make a hole in one at the 19th - the opportunity to have their Polaroid picture featured on the wall and a lifetime free pass.
Myrtle Beach State Park
This largely undeveloped park has large forest stretches, a mile of beachfront, a large camp-ground and several nature trails. Visit the Nature Center, where you can learn about dolphins, sea turtles and the various plants and animals that are native to this region. Pets are allowed in most outdoor areas and special tours are conducted for visitors eager to learn more about the region's natural plant and animal life.
Myrtle Beach Speedway
the Myrtle Beach Speedway served as the venue for the NASCAR Cup series from 1958 through 1965. It is a 0.538 mile-long oval track. The NASCAR Busch Series also raced at Myrtle Beach Speedway in the years between 1988 and 2000. The course has served as the training ground for NASCAR's most famous racers, including Dale Earnhardt Jr. and Jeff Gordon. Stop by the speedway if you're looking for a dash of adrenaline to spice up your holiday.
Is visiting the white sand beaches, lush golf-courses and vibrant tourist districts of Myrtle Beach your idea of a perfect summer holiday? Make sure to check out Lookupfare's OTA for the very best and cheapest flights to Myrtle Beach. You'll be surprised at how painless and cost-effective planning your Myrtle Beach vacation can be.
Read More
Don't Just Travel. Make Time Immemorial Family Vacations