Things to Do in Los Angeles
Los Angeles, nicknamed as 'The Entertainment Capital of the World,' is recognized by the world for being home to Hollywood. Many recording artists, actors and other performers live in various districts of Los Angeles. The city is often labeled as the 'Creative Capital of the World,' because of its residents who are mostly from the creative world of the entertainment industry. Book airline tickets to Los Angeles and explore this vibrant city.
The City of Los Angeles is usually addressed by its initials — L.A. It is the cultural, economic, and commercial center of Southern California. About 841 museums and art galleries can be found in Los Angeles County. Apart from this, there are more than 1,100 annual theatrical productions and 21 openings every week. So, if you are planning to visit this diverse city, make sure to check out this list of things to do in Los Angeles.
Los Angeles County Museum of Art
The Los Angeles County Museum of Art (LACMA) is the largest art museum in western United States. It is located on Wilshire Boulevard area of the city. The museum attracts nearly a million visitors annually. It displays more than 150,000 works of art spanning from prehistoric times to the present. Various collections of American and Latin American Art, Islamic Art, Decorative Arts & Design and Photographs are found in the museum. In addition to art exhibits, the museum hosts film screenings and concerts.
Hollywood Sign
A historical landmark and pop-culture icon, the Hollywood sign is one of those spots that you need to visit at least once in your life.
Downtown Los Angeles
A central business district of the city, Downtown Los Angeles is considered to be a heritage of L.A. Many plazas, public parks and other open spaces can be found in the Downtown area. Some of the best eateries in the neighborhood are Redbird, Water Grill and The Palm Restaurant.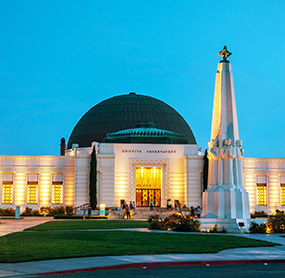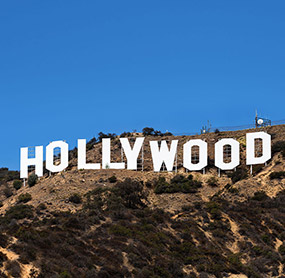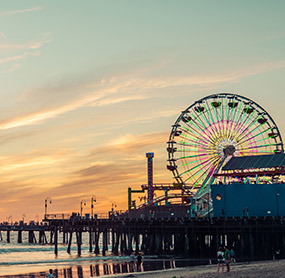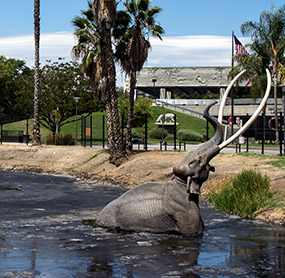 28 Apr 2020 - 01 May 2020
30 Apr 2020 - 06 May 2020
29 May 2020 - 03 Jun 2020
08 May 2020 - 12 May 2020
Cathedral of Our Lady of the Angels
Named in the honor of the Blessed Virgin Mary, it is a Latin Church Cathedral located at 555 W. Temple St. The church was founded in 2002. The church hosts a number of events. Every Wednesday afternoon, it holds an Organ recital. No entry fee is charged for visitors to enjoy the performances.
Los Angeles Music Center
One of the biggest performing arts centers in the U.S., the Los Angeles Music Center is located in downtown L. A. Almost 1.3 million spectators enjoy the shows and events hosted by this venue. Among the events hosted are art festivals, concerts, workshops, participatory arts activities, and educational programs. Catching a show at this venue is one of the most fun things to do in Los Angeles.
Fox Plaza
Located at Century City, Fox Plaza has been featured in numerous motion movies released by Fox. It has also been highlighted in the video games Midnight Club: Los Angeles, Grand Theft Auto V and many others. The building is Twentieth Century Fox's official headquarters and former U.S. President Ronald Reagan's offices were on the 34th floor for many years after he left public office.
Walt Disney Concert Hall
Opened on October 24, 2003, the Walt Disney Concert Hall is the fourth hall of the Los Angeles Music Center. It is home to the incredibly talented Los Angeles Philharmonic. It offers jazz, contemporary and world music; bringing a mixture of renowned performers from around the globe.
Nokia Theater at LA Live
Inaugurated in 2007, the Nokia Theater is located near the Staples Center. It has a seating capacity of about 7,100, and hosts up to 120 events per year including the famous MTV Music Awards and the American Idol finals. Many great names have performed on its stage, like Aretha Franklin, Ed Sheeran, and Train.
The Wisdom Tree
The Wisdom Tree is located at Burbank Peak. In 2007, after a massive wildfire destroyed hundreds of acres of land, the Wisdom Tree was the only tree that was left standing. Since then, it had become a very popular vantage point for people to enjoy a breathtaking view of the city.
MacArthur Park
Listed as a Los Angeles Historic-Cultural Monuments, MacArthur Park is situated in the Westlake area of the city. The park is named after General Douglas MacArthur. The park features a soccer field, a kid's playground, an amphitheater and the Levitt Pavilion which hosts free summer concerts and other events.
Universal Studios Hollywood
Universal Studios Hollywood tours take you to movie and TV series sets and gives you a taste of the behind-the-scenes action. Universal Studios also feature an amusement park. Many of the rides have been created with themes of popular movies and shows like the Simpsons Ride, Jurassic Park Ride, Mummy Ride, Shrek 4-D Ride and much more.
Book a few low-cost airline tickets and tick-off a few points from your things to do in Los Angeles list.
Read More
Don't Just Travel. Make Time Immemorial Family Vacations