Things to Do in Hong Kong
Hong Kong, a bustling city, is one of the most popular tourist destinations on the planet. Today, Hong Kong is considered to be one of world's most important financial centers. It is renowned for its deep natural harbor, impressive skyline, with a very high density of skyscrapers. In 2014, Hong Kong witnessed a total of 27.8 million visitors making it the eleventh most popular destination for international travelers. If you are planning to visit this vibrant city, then make sure to check out this list of the best things to do in Hong Kong.
Victoria Peak: With almost seven million visitors every year, the Peak is one of the famous tourist attraction in Hong Kong. This is the perfect place for travelers to have spectacular views of the city, Victoria Harbour, Lamma Island and the surrounding islands. Victoria Peak, also known as Mount Austin, is a mountain in the western half of Hong Kong Island. The Peak is home to many species of birds; mostly the black kite, and numerous species of butterflies. Because of the tremendous rush of tourists, many shopping centers and restaurants have been constructed at the site.
Hong Kong Heritage Museum: Designed to provide the comprehensive presentations on history, art, and culture, Hong Kong Heritage Museum is situated alongside the Shing Mun River. The museum was established on 16 December 2000 and is considered to be the largest in Hong Kong that can accommodate 6,000 visitors at a time. The museum displays six permanent galleries and six other themed galleries for temporary exhibitions. It also possess over 30,000 items related to Cantonese opera. Hop-on a last minute flight to Hong Kong to visit this intriguing museum.
St. John's Cathedral: Declared as a 'Monument of Hong Kong' in 1996, the St. John's Cathedral is one of the oldest surviving Western religious building in Hong Kong. The Cathedral's architectural style of 13th century English and Decorated Gothic makes it more attractive. These styles were famous for churches of that time. This place of worship was inaugurated in 1849.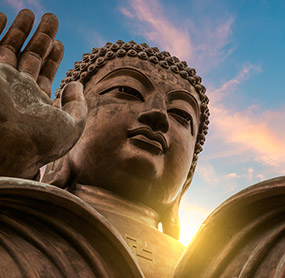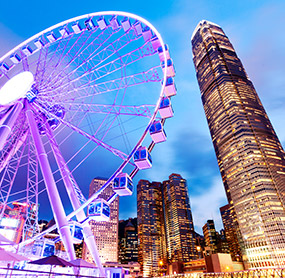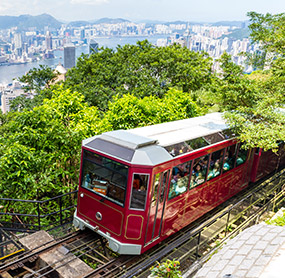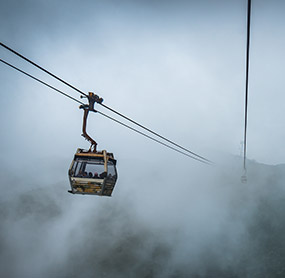 Tian Tan Buddha: A giant bronze statue of Buddha Shakyamuni, Tian Tan Buddha represents the harmonious bond between man & nature, people & their faith. Along with being a popular tourist spot, it also happened to be one of the major centers of Buddhism in Hong Kong. The construction of this marvelous statue was finished on 29 December 1993. Both the Monastery and the Buddha remain open to the public between 10:00 and 17:30. Visiting the Tian Tan Buddha is one of the coolest things to do in Hong Kong.
Lantau Island: Lantau Island is the largest island in Hong Kong that consists of a cluster of charming little villages. Located at the mouth of Pearl River, you can find secluded beaches, monasteries and more. The area is famous for hiking, camping, fishing, mountain biking and many other activities. Over 50% of Lantau Island consists of national parks and a large number of well-marked trails.
Hong Kong Global Geopark: An area of 50 km across the Eastern and Northeastern New Territories, the park includes eight sites. On September 18, 2011, UNESCO listed Geopark as part of its Global Geoparks Network. The Hong Kong Global Geopark areas are accessible by ferries, buses, taxis and local tours.
Hong Kong Disneyland: Asia's second Disneyland known for featuring some of the Disney favorites. The park is featured with many themed areas i.e. Main Street, USA, Adventureland, Fantasyland, Tomorrowland, Toy Story Land and much more. The huge plus point this amusement park is that it's relatively cheap for most international visitors. This attracts millions of tourists every year especially people traveling with their children.
Ocean Park Hong Kong: Filled with a huge number of attractions and rides, animal exhibits, giant panda habitat, rainforest; along with an aquarium featuring the world's largest aquarium dome, Ocean Park Hong Kong is a not to be missed spot. It is one of the most popular attractions in the country. One of the rarest things about this attraction is its jellyfish exhibit. The park was opened in 1977 and aims to merge entertainment and education. A large mountain separates the park into two areas, The Summit and The Waterfront.
Ngong Ping 360: The Ngong Ping 360 was inaugurated on 18th September, 2006. It is an aerial tramway connects Tung Chung with the Ngong Ping area in the hills. Take a cheap flight to Hong Kong for an awesome ride.
Kowloon Walled City Park: One of the most beautiful spots in the city, the Kowloon Walled City Park consists of eight different themed landscapes. Eight Floral Walks, Garden of Chinese Zodiac, Fei Sing Pavilion, Mountain View Pavilion, Chess Garden, the Yamen, Garden of Four Seasons and Guibi Rock are the areas gracing this garden.
Man Mo Temple: Placed in between the antique shops of Hollywood Road, the Man Mo Temple was built in the 1893. It is Hong Kong's oldest temple. Many old shops including the best Chinese and South-east Asian antique stores in the world, are located there. Visiting this temple and exploring its surroundings is one of the most amazing things to do in Hong Kong.
Read More
Don't Just Travel. Make Time Immemorial Family Vacations