Things to Do in Chicago
A global architecture capital, Chicago is known for being an international hub for finance, commerce, industry, technology, telecommunications, and transportation. Regarding wealth, Chicago is considered to be one of the most important business centers in the world. The city is famous for different landmarks, visual arts, film, theater, music, colleges, cityscape, climate, cuisine and parks. Book cheap airline tickets and explore the city with this list of things to do in Chicago.
Navy Pier
Navy Pier is quite popular for many attractions such as sightseeing tours, dinner cruises, funhouse maze, etc. Other attractions include crystal garden, botanical garden, a six-story glass atrium. It is also used as a venue for various events including awesome rock concerts. Spending a few hours just strolling around is one of the most fun things to do in Chicago. Make sure to catch the gorgeous sunset at the pier.
Millennium Park
A public park located in the Grant Park area, Millennium Park is a refreshing piece of greenery that gives residents of the city a chance to play in Mother Nature's arms. It is also home to the giant steel sculpture — The Bean. This intriguing sculpture draws a large number of domestic and international travelers. It has also been featured in numerous movies and television series.
In 2015, Millennium Park became the city's prime location for the grand affair of 'Christmas Tree lighting'. The park is bustling with activity all year through with events like Chicago Blues Festival, Chicago Gospel Music Festival, Little Lurie Gardeners: Singing Explorers and many more. The most popular one is probably the Grant Park Music Festival, held annually, in the months of June through August.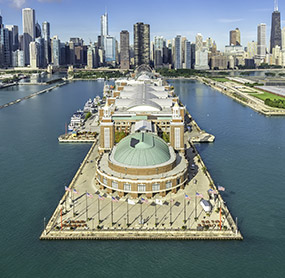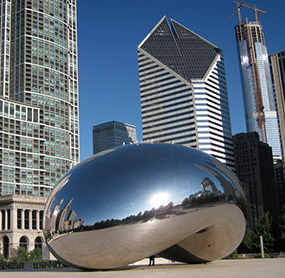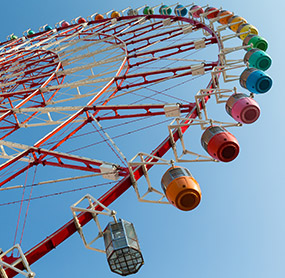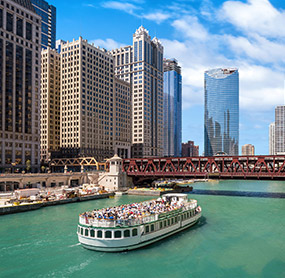 21 May 2020 - 26 May 2020
30 Apr 2020 - 14 May 2020
29 May 2020 - 05 Jun 2020
22 May 2020 - 25 May 2020
Field Museum of Natural History
An absolute must in your things to do in Chicago list, the Field Museum of Natural History comprises of interactive and general exhibits that feed the interest of curious minds. The museum's fascinating collection include mummies, delicate crystals, bird specimens and many more. Founded in 1893, the museum has been entertaining and educating visitors for decades.
Shedd Aquarium
An indoor aquarium, Shedd Aquarium contains about 32,000 marine creatures including California sea lions, Pacific white-sided dolphins, Southern sea otters and Beluga whales. The aquarium holds the record of being the first inland aquarium with a permanent saltwater fish collection. The aquarium received awards for the best exhibit from the Association of Zoos and Aquariums for Seashore Symphony in 1999, Wild Reef in 2004 and Amazon Rising in 2001. It was also designated as a National Historic Landmark in 1987.
Art Institute of Chicago
Hop on a cheap flight to Chicago and explore one of the oldest and largest art museums in the country. Founded in 1879, the Art Institute of Chicago accommodates about 1.5 million guests annually and is recognized for its exhibits and popularity among tourists. Its permanent collection contains nearly 300,000 works of art. The collection encompasses more than 5,000 years of human expression from cultures around the world. The museum is principally known for one of the United States finest collection of paintings produced in Western culture.
Willis Tower
Willis Tower, one of the most recognized landmarks of the city, is a 108-story tall skyscraper. After its completion in 1973, it surpassed the World Trade Center towers in New York to become the tallest building in the world. It held the title for nearly 25 years and remained the tallest building in Western Hemisphere until 2014 till the completion of the new building at the World Trade Center site. Many broadcasting station transmitters are located at the top of the tower. Willis Tower has appeared in numerous films, and television shows too.
Lincoln Park Zoo
Inaugurated in 1868, Lincoln Zoos is one of the oldest zoos in North America. The zoo is one of a few free admission zoos in the United States. Among the approximately 1,100 wildlife creatures that call Lincoln Zoo their home are polar bears, monkeys, camels, penguins and lions.
Museum of Science and Industry
Housed in the former Palace of Fine Arts, the Museum of Science and Industry has about 2,000 fun exhibits that explain how things work. Some of its most popular exhibits are Ships Gallery, Coal Mine, Brick by Brick and The Great Train Story. Along with these, the museum also hosts temporary exhibitions including traveling ones. Many of these exhibits stay for five months or less. Visitors need to pay a separate entry fee to view these exhibits. In 2015, the robot revolution exhibit was set-up. Sponsored by Google.org, the exhibit features many hands-on demonstrations and advice from experts for potential robot scientists and engineers.
Buckingham Fountain
Situated in the middle of Grant Park, Buckingham Fountain is one of the largest fountains in the world. During the months of April through October, it hosts water-light-color shows in the evenings. In winters, the fountain is decorated with festive lights. This landmark has already been featured in various television shows and movies.
Book a few low-cost airline tickets and experience all the amazing things to do in Chicago.
Read More
Don't Just Travel. Make Time Immemorial Family Vacations